Featured Author Event: Chris Cander (Los Angeles)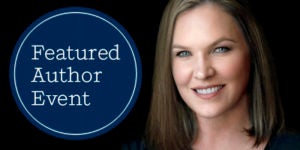 Colleagues in and around Los Angeles take note: Chris Cander, author of THE WEIGHT OF A PIANO, published by Knopf, is appearing at Skylight Books in Los Angeles on Wednesday, February 27. Cander will be in conversation with Helga Kasimoff, who operates a Pasadena piano dealership, well known for restoring and placing Blüthner pianos (a key element in Cander's novel) in homes, colleges and universities.
THE WEIGHT OF A PIANO earned high praise from The New York Times Book Review: "Immense, intense and imaginative. . . . The Weight of a Piano is about memory and identity. . . . Cander is a smart, deft storyteller [and] understands how something as beloved as a piano can actually be a burden."
This novel is a tour-de-force about two women and the piano that inexorably ties their lives together through time and across continents, for better and for worse.
In 1962, in the Soviet Union, eight-year-old Katya is bequeathed what will become the love of her life: a Blüthner piano, built at the turn of the century in Germany, on which she discovers everything that she herself can do with music and what music, in turn, does for her. Yet after marrying, she emigrates with her young family from Russia to America, at her husband's frantic insistence, and her piano is lost in the shuffle.
In 2012, in Bakersfield, California, twenty-six-year-old Clara Lundy loses another boyfriend and again has to find a new apartment, which is complicated by the gift her father had given her for her twelfth birthday, shortly before he and her mother died in a fire that burned their house down: a Blüthner upright she has never learned to play. Orphaned, she was raised by her aunt and uncle, who in his car-repair shop trained her to become a first-rate mechanic, much to the surprise of her subsequent customers. But this work, her true mainstay in a scattered life, is put on hold when her hand gets broken while the piano's being moved–and in sudden frustration she chooses to sell it. And what becomes crucial is who the most interested party turns out to be.
Chris Cander graduated from the Honors College at the University of Houston, in the city where she was raised and still lives, with her husband, daughter, and son. For seven years she has been a writer-in-residence for Writers in the Schools there. She serves on the Inprint advisory board and stewards several Little Free Libraries in her community. Her first novel, 11 Stories, won the Independent Publisher Gold Medal for Popular Fiction, and her most recent, Whisper Hollow, was long-listed for the Great Santini Fiction Prize by the Southern Independent Booksellers Alliance. She is also the author of The Word Burglar, which won a 2014 Moonbeam Children's Book Award.
Posted: February 25, 2019