Featured Author Event: Darra Goldstein (San Francisco)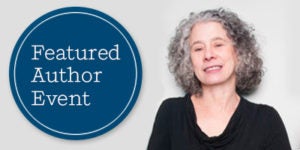 To our Bay Area colleagues: Don't miss out on the opportunity to hear Darra Goldstein discuss her latest book BEYOND THE NORTH WIND: Russia in Recipes and Lore (Ten Speed Press) in conversation with Margo True, the food editor at Sunset Magazine. The event will begin at 3:00 pm on Saturday, February 29 at Omnivore Books (3885a Cesar Chavez St.) in San Francisco.
In her follow up to the IACP and James Beard Award-nominated Fire + Ice, Darra Goldstein tackles Russian cuisine. Beyond the North Wind explores the true heart of Russian food, a cuisine that celebrates whole grains, preserved and fermented foods, and straightforward but robust flavors.
Recipes for a dazzling array of pickles and preserves, infused vodkas, homemade dairy products such as farmers cheese and cultured butter, puff pastry hand pies stuffed with mushrooms and fish, and seasonal vegetable soups showcase Russian foods that are organic and honest–many of them old dishes that feel new again in their elegant minimalism. Despite the country's harsh climate, this surprisingly sophisticated cuisine has an incredible depth of flavor to offer in dishes like Braised Cod with Horseradish, Roast Lamb with Kasha, Black Currant Cheesecake, and so many more.
This home-style cookbook with a strong sense of place and evocative storytelling brings to life a rarely seen portrait of Russia, its people, and its palate–with 100 recipes, gorgeous photography, and essays on the little-known culinary history of this fascinating and wild part of the world.
Darra Goldstein is the author of Fire + Ice, which was nominated for James Beard, IACP, and The Art of Eating awards. The founding editor of Gastronomica: The Journal of Food and Culture, named Publication of the Year by the James Beard Foundation, Darra also serves as series editor of California Studies in Food and Culture, and has written for Gourmet, Saveur, Bon Appétit, and The New York Times.
Posted: February 27, 2020