Featured Author Event: DeRay Mckesson (Washington, D.C.)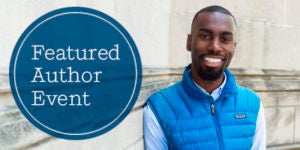 Colleagues who will be in the vicinity of Washington, D.C. tonight take note: DeRay Mckesson, internationally recognized civil rights activist/organizer and host of the popular podcast, Save the People, will discuss his new Viking book, ON THE OTHER SIDE OF FREEDOM: The Case for Hope, in conversation with Taylor Branch, author of a trilogy of books chronicling the life of Martin Luther King, Jr, at George Washington University's Dorothy Betts Marvin Theatre. The event begins at 7:00 p.m. and includes a post-show meet & greet with Mckesson.
In August 2014, then twenty-nine-year-old Mckesson stood with hundreds of others on the streets of Ferguson, Missouri, to push a message of justice and accountability. These protests, and others like them in cities across the country, resulted in the birth of the Black Lives Matter movement. Now, in his first book, Mckesson lays down the intellectual, pragmatic, and political framework for a new liberation movement. Continuing a conversation about activism, resistance, and justice that embraces our nation's complex history, he dissects how deliberate oppression persists, how racial injustice strips our lives of promise, and how technology has added a new dimension to mass action and social change. He argues that our best efforts to combat injustice have been stunted by the belief that racism's wounds are history, and suggests that intellectual purity has curtailed optimistic realism. ON THE OTHER SIDE OF FREEDOM offers a new framework and language for understanding the nature of oppression. With it, we can begin charting a course to dismantle the obvious and subtle structures that limit freedom.
Mckesson started his career as an educator and came to prominence for his participation in, and documentation of, the Ferguson protests and the movement they birthed, and for publicly advocating for victims of police violence and to end mass incarceration. He's spoken at venues from the White House to the Oxford Union, at universities, and on TV. Named one of Time's 30 Most Influential People on the Internet and #11 on Fortune's World's Greatest Leaders list, he has received honorary doctorates from The New School and teh Maryland Institute College of Art. A leading voice in the Black Lives Matter movement and the co-founder of Campaign Zero, a policy platform
Posted: September 7, 2018