Featured Author Event: H. Jon Benjamin (NYC)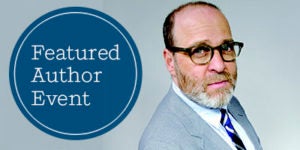 Actor, author and comedian H. Jon Benjamin is launching his new Dutton book, FAILURE IS AN OPTION: An Attempted Memoir, at The Strand in New York City on Tuesday, May 1, beginning at 7:00 p.m. Benjamin is best known for voicing characters, including Sterling Archer in Archer, Bob Belcher in Bob's Burgers, Dr. Katz in Dr. Katz, and Jason in Home Movies. He will be joined at The Strand by fellow comedian, actor and writer Eugene Mirman, known for playing Yvgeny Mirminsky on Delocated, and voicing Gene Belcher on Bob's Burgers.
In his book, Benjamin reminds everyone that as great as success can be, failure is also an option. And maybe the best option. Breaking down one's natural ability to succeed is not an easy task, but also not an impossible one. Society as we know it is, unfortunately, opposes failure. If failure became more accepted it would make the world a different place, a kinder, gentler place, where gardens are overgrown and most people stay home with their pets. A vision of failure, but also a vision of freedom.
With stories, examples of artistic and literary failure, and a powerful can't-do attitude, FAILURE IS AN OPTION is the book the world doesn't need right now but will get regardless.
Fun bonus fact: H. Jon Benjamin's first job in NYC was at The Strand!
Posted: April 30, 2018