Featured Author Event: Hannah Hart Launches MY DRUNK KITCHEN HOLIDAYS! (Brooklyn)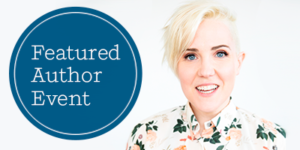 Hannah Hart, YouTuber, entertainer and New York Times bestselling author, will celebrate her new book MY DRUNK KITCHEN HOLIDAYS! (on sale from Plume on October 22) at an event at Murmrr Ballroom (17 East Parkway, Brooklyn) with Community Bookstore on Tuesday, October 22, beginning at 7:30 PM. Hart will be in conversation with fellow entertainers Mamrie Hart & Grace Helbig. General admission tickets (without a book) are $15 each and book-bundled tickets (includes copy of the book) are $38 each. Doors open at 6:30 PM. 
Hannah Hart is best known as the creator and star of her award-winning hit YouTube series My Drunk Kitchen. Hannah created and starred in the Food Network series I Hart Food, and she starred in the films Electra Woman and Dyna Girl and Dirty 30. She is also known for her LGBTQ+ activism and charitable work.
MY DRUNK KITCHEN HOLIDAYS! is a humorous cookbook celebrating year-round holidays with food, drink, and friends. From Valentine's Day to Graduation to Pride Month to International Bacon day (really!), Hart has recipes and activities for every occasion. The book will cumulate with the fall holidays that get so much deserved attention: recipes for Oktoberfest, Halloween, Thanksgiving with a twist, and a celebration of Hanukah/Kwanzaa/Christmas that is celebratory, inclusive, and incredibly hilarious.
Posted: October 18, 2019