Featured Author Event: Howard Schultz (San Francisco)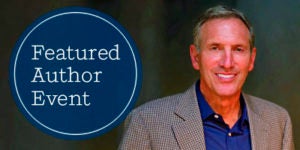 Colleagues in the vicinity of the San Francisco Bay Area take note: Howard Schultz, the longtime CEO and chairman of Starbucks, will be discussing his new Random House book, FROM THE GROUND UP: A Journey to Reimagine the Promise of America, on Friday, February 1, at the Jewish Community Center in San Francisco.
In FROM THE GROUND UP, Schultz looks for answers in two interwoven narratives. One story shows how his conflicted boyhood—including experiences he has never before revealed—motivated Schultz to become the first in his family to graduate from college, then to build the kind of company his father, a working-class laborer, never had a chance to work for: a business that tries to balance profit and human dignity.
A parallel story offers a behind-the-scenes look at Schultz's unconventional efforts to challenge old notions about the role of business in society. From health insurance and free college tuition for part-time baristas to controversial initiatives about race and refugees, Schultz and his team tackled societal issues with the same creativity and rigor they applied to changing how the world consumes coffee.
Throughout the book, Schultz introduces a cross-section of Americans transforming common struggles into shared successes. In these pages, lost youth find first jobs, aspiring college students overcome the yoke of debt, post-9/11 warriors replace lost limbs with indomitable spirit, former coal miners and opioid addicts pave fresh paths, entrepreneurs jump-start dreams, and better angels emerge from all corners of the country.
FROM THE GROUND UP is part candid memoir, part uplifting blueprint of mutual responsibility, and part proof that ordinary people can do extraordinary things. At its heart, it's an optimistic, inspiring account of what happens when we stand up, speak out, and come together for purposes bigger than ourselves.
During his career, Schultz has been recognized for his leadership, business ethics, and efforts to strengthen communities. He and his wife, Sheri, have pledged extensive support to help veterans make successful transitions to civilian life through the Schultz Family Foundation's Onward Veterans initiative.
Posted: January 30, 2019