Featured Author Event: Ingrid Rojas Contreras (San Francisco)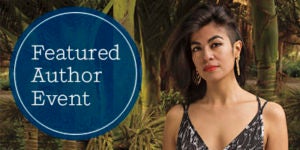 Colleagues in the Bay Area take note: Doubleday author Ingrid Rojas Contreras will be presenting her mesmerizing debut novel, FRUIT OF THE DRUNKEN TREE, at a release party that will take place at The Bindery in San Francisco on Thursday, August 2, at 7:00 pm.
Inspired by events in Rojas Contreras' own life, FRUIT OF THE DRUNKEN TREE follows the unlikely friendship between a sheltered young girl and a teenage maid at the height of Pablo Escobar's ruthless reign. Seven-year-old Chula and her older sister Cassandra lead carefree lives within the walls of their community in Bogotá. Yet the threat of kidnappings, car bombs, and assassinations prowl just outside the community gates, where the godlike drug lord Pablo Escobar continues to elude authorities and capture the attention of the nation.
When their mother hires Petrona, a live-in-maid from the city's guerrilla-occupied slum, Chula is determined to understand Petrona's mysterious ways. But Petrona's unusual behavior belies more than shyness—she is a young woman crumbling beneath the pressure of providing for her family while the riptide of first love yanks her in the opposite direction. As both girls' families struggle to maintain stability amidst the rapidly escalating conflict, Petrona and Chula find themselves trapped in a web of secrecy that will force them both to choose between sacrifice and betrayal. Through her vivid and striking prose, Rojas Contreras tells the tale of the impossible choices women are often forced to make in the face of violence and the unexpected connections that can blossom out of desperation.
Ingrid Rojas Contreras was born and raised in Bogotá, Colombia. Her essays and short stories have appeared in the Los Angeles Review of Books, Electric Literature, Guernica, and Huffington Post, among others. Rojas Contreras has received fellowships and awards from The Missouri Review, Bread Loaf Writer's Conference, VONA, Hedgebrook, The Camargo Foundation, Djerassi Resident Artists Program, and the National Association of Latino Arts and Cultures. She is the book columnist for KQED Arts, the Bay Area's NPR affiliate.
Posted: July 31, 2018