Featured Author Event: James Ellroy (Denver)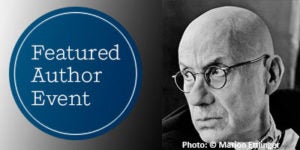 Colorado colleagues in the vicinity of Denver are in for a treat. Celebrated author James Ellroy will be presenting his latest novel, THIS STORM, published by Alfred A Knopf, at the Tattered Cover Bookstore in Denver on Colfax Street on Friday, June 21. This free event begins at 7:00 p.m.
Picture this: it's January, 1942. Torrential rainstorms have hit Los Angeles. A body is unearthed in Griffith Park. The cops rate it a routine dead-man job. They're grievously wrong. It's a summons to misalliance and all the spoils of a brand-new war.
THIS STORM is a massive novel of World War II L.A. that explores the parallels between its characters and the pervasive effects of war time. At its heart, readers will discover that the narrative is as much about the inner wars the central protagonists face as it is about the war surrounding them. Both wars will be fought with unstoppable fury.
James Ellroy was born in Los Angeles in 1948. He is the author of the Underworld U.S.A. Trilogy–American Tabloid, The Cold Six Thousand, and Blood's a Rover–and the L.A. Quartet novels – The Black Dahlia, The Big Nowhere, L. A. Confidential, and White Jazz. He lives in Colorado.
Posted: June 19, 2019