Featured Author Event: Jeff Seymour (Denver)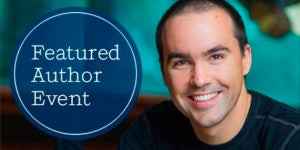 Attention Colorado colleagues with middle-grade level children: Jeff Seymour, author of NADYA SKYLUNG AND THE CLOUDSHIP RESCUE (G.P. Putnam's Sons Books for Young Readers), is presenting his new book on Monday, November 19, at the Tattered Cover Bookstore in Denver. The event begins at 7:00 p.m., beginning with a reading, followed by a discussion and book signing.
This entertaining fantasy/adventure, illustrated by Brett Helquist (Lemony Snicket's A Series of Unfortunate Events), stars an extraordinary new heroine and is set in an unforgettable world where ships can fly. It takes a very special crew to keep the cloudship Orion running, and no one knows that better than Nadya Skylung, who tends the cloud garden that keeps the ship afloat. When the unthinkable happens and pirates attack, Nadya and the other children aboard – all orphans taken in by the kindhearted Captain Nic – narrowly escape, but the rest of the crew is captured. Alone and far from help, only Nadya and her four brave and loyal friends can take back the Orion and rescue the crew. And she'll risk life and limb to save the only family she's ever known. But . . . this attack was no accident. What exactly are the pirates looking for? Could it be Nadya they've been after all along?
NADYA SKYLUNG AND THE CLOUDSHIP RESCUE is Jeff Seymour's first book. In addition to writing speculative fiction, he works as a freelance editor. Jeff lives in Indiana with his wife, their son, and two energetic cats. Visit him online at jeff-seymour.com and on Twitter at @realjeffseymour.
Posted: November 15, 2018