Featured Author Event: Jill Santopolo (Manhattan)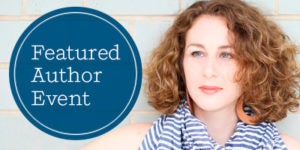 Penguin Random House colleagues are invited to meet and hear Jill Santopolo discuss her latest Putnam novel, MORE THAN WORDS, in conversation with Berkley author Laura Hankin (Happy and You Know It) on Tuesday, February 4, from 7:00 to 8:30 p.m. at Barnes & Noble on the Upper West Side (2289 Broadway). Following a Q&A, there will be a book signing.
MORE THAN WORDS is about a woman at a crossroads after the death of her father, and caught between the love of two men. It's a heartbreaking and romantic novel about grief, loss, love, and self-discovery, and how we choose which life we are meant to live.
Nina Gregory has always been a good daughter. Raised by her father, owner of New York City's glamorous Gregory Hotels, Nina was taught that family, reputation, and legacy are what matter most. And Tim–her devoted boyfriend and best friend since childhood–feels the same. But when Nina's father dies, he leaves behind a secret that shocks Nina to her core. Soon, Nina begins to see the men in her life–her father, her boyfriend, and unexpectedly, her boss, Rafael–in a new light, finding herself caught between the world she loves, and a passion that could upend everything.
Jill Santopolo received a BA in English literature from Columbia University and an MFA in writing from the Vermont College of Fine Arts. She's the author of three successful children's and young-adult series and works as the Associate Publisher of Philomel Books, a Penguin Young Readers imprint. Santopolo travels the world to speak about writing and storytelling. She is the New York Times bestselling author of More Than Words and The Light We Lost, a Reese Witherspoon Book Club pick. She lives in New York City.
Posted: February 3, 2020