Featured Author Event: Jill Soloway (San Francisco)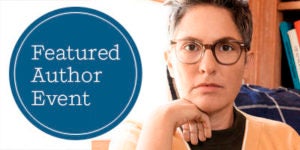 Attention colleagues in the San Francisco Bay Area: Jill Soloway will be discussing and signing copies of their new Crown Archetype book, SHE WANTS IT: Desire, Power, and Toppling the Patriarchy on Wednesday, October 24, at Kanbar Hall in San Francisco. Hosted by the JCC of San Francisco, the event promises to be a night of candor, humor and creative brilliance, charting Jil's evolution from straight, married mother of two to identifying as queer and nonbinary.
In this poignant memoir of personal transformation, Soloway takes readers on a patriarchy-toppling emotional and professional journey. When Jill's parent came out as transgender, Soloway pushed through the male-dominated landscape of Hollywood to create the groundbreaking and award-winning Amazon TV series Transparent. Exploring identity, love, sexuality, and the blurring of boundaries through the dynamics of a complicated and profoundly resonant American family, Transparent gave birth to a new cultural consciousness. While working on the show and exploding mainstream ideas about gender, Jill began to erase the lines on their own map, finding their voice as a director, show creator, and activist.
This intense and revelatory metamorphosis challenges the status quo and reflects the shifting power dynamics that continue to shape our collective worldview. With unbridled insight that offers a rare front seat to the inner workings of the #metoo movement and its aftermath, Soloway captures the zeitgeist of a generation with thoughtful and revolutionary ideas about gender, inclusion, desire, and consent.
Jill Soloway is the Emmy and Golden Globe Award-winning creator of Transparent and I Love Dick. Their first feature film, Afternoon Delight, won the 2013 Directing Award at Sundance. Soloway's work can also be seen in Six Feet Under, How to Make It in America, and United States of Tara. An activist and artist, Jill cofounded 5050 by2020, East Side Jews, and the spoken word series Sit n' Spin.
Posted: October 22, 2018