Featured Author Event: John Feinstein (Washington, D.C.)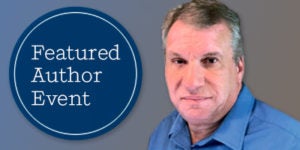 Penguin Random House employees and college basketball fans in the vicinity of Washington, D.C. are invited to attend an author event scheduled just in time for March Madness. Doubleday author John Feinstein will be discussing his latest book, THE BACK ROADS TO MARCH, on Monday, March 2 at the Politics and Prose Bookstore (5015 Connecticut Ave. NW). The event begins at 7:00 pm.
Thirty years after changing the sports book landscape with his mega-hit, A Season on the Brink, #1 New York Times bestselling author Feinstein returns to his first love–college basketball–with a fascinating and compelling journey through a landscape of unsung, unpublicized and often unknown heroes of Division-1 college hoops.
Feinstein has already taken readers into the inner circles of top college basketball programs in The Legends Club. In THE BACK ROADS TO MARCH, Feinstein pulls back the curtain on college basketball's lesser-known Cinderella stories–the smaller programs who no one expects to win, who have no chance of attracting the most coveted high school recruits, who rarely send their players on to the NBA.
Feinstein follows a handful of players, coaches, and schools who dream, not of winning the NCAA tournament, but of making it past their first or second round games. Every once in a while, one of these coaches or players is plucked from obscurity to continue on to lead a major team or to play professionally, cementing their status in these fiercely passionate fan bases as a legend. These are the gifted players who aren't handled with kid gloves–they're hardworking, gritty teammates who practice and party with everyone else.
With his trademark humor and invaluable connections, Feinstein reveals the big time programs you've never heard of, the bracket busters you didn't expect to cheer for, and the coaches who inspire them to take their teams to the next level.
John Feinstein is the #1 New York Times bestselling author of the classic sports books A Season on the Brink and A Good Walk Spoiled, along with many other bestsellers including The Legends Club and Where Nobody Knows Your Name. He currently writes for The Washington Post and Golf Digest and is a regular contributor to the Golf Channel, Comcast Sports Regional Networks, and he hosts a college basketball show and a golf show on SiriusXM Radio.
Posted: February 28, 2020