Featured Author Event: Joseph Finder (NYC)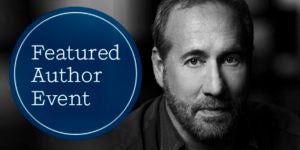 You are invited to join New York Times bestselling author Joseph Finder, who will be discussing his new Dutton book, JUDGMENT, with his brother, Henry Finder, New Yorker Editorial Director, on Monday, February 4 at Temple Emanu-El Streicker Center (1 E 65th St.) in NYC. 
With JUDGMENT, Finder returns with an explosive new thriller about a female judge and the one personal misstep that could lead to her–and her family's–downfall. In the end, turning the tables on her adversaries will require her to be as ruthless as they are.
Joseph recently shared a childhood memory involving Henry ("I once accidentally inflicted something terrible on him, for which I still feel guilty"). While attempting to make chocolate chip cookies for his Boy Scout troop with Henry, his brother had an encounter with a KitchenAid mixer that resulted in Henry's long locks getting trapped in the machine, which ripped out a large swatch of hair. Joseph says, "Eventually Henry's hair grew back, even thicker and fuller than before. He never regained his enthusiasm for chocolate-chip cookies, however. So don't be surprised if he asks me some tough questions." To read Joseph's complete story, click here.
Joseph Finder is the New York Times bestselling author of fourteen previous novels, including THE SWITCH, GUILTY MINDS, and SUSPICION, winner of the Barry Award for Best Thriller of the Year.
Posted: February 1, 2019