Featured Author Event: Joshua Cohen (Los Angeles)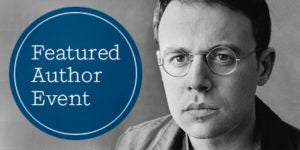 Colleagues in Southern California take note: Random House author Joshua Cohen will be discussing his latest book, ATTENTION: Dispatches from a Land of Distraction, in conversation with his editor, Sam Nicholson, at Book Soup in West Hollywood on Sunday, August 26. This afternoon author event begins at 3:00 p.m. and will conclude with a book signing.
Heralded as one of Granta's Best of Young American Novelists, Cohen delivers his first collection of nonfiction, ATTENTION, the culmination of two decades of writing and thought about life in the digital age. In essays, memoir, criticism, diary entries, and letters—many appearing here for the first time—Cohen covers the full depth and breadth of modern life: politics, literature, art, music, travel, the media, and psychology, and subjects as diverse as Google, Donald Trump, Bernie Sanders, fictional animals, Gustav Mahler, Aretha Franklin, John Zorn, landscape photography, fake Caravaggios, Wikipedia, Gertrude Stein, Edward Snowden, Jonathan Franzen, Olympic women's fencing, Atlantic City casinos, the closing of the Ringling Bros. circus, and Azerbaijan.
Throughout ATTENTION, Cohen directs his sharp gaze at home and abroad, calling upon his extraordinary erudition and unrivaled ability to draw connections between seemingly unlike things to show us how to live without fear in a world overflowing with information. In each piece, he projects a quality of thought that is uniquely his, and a voice as witty, profound, and distinct as any in American letters. At this crucial juncture in history, ATTENTION is a guide for the perplexed—a handbook for anyone hoping to bring the wisdom of the past into the culture of the future.
Born in 1980 in Atlantic City, Cohen has written novels (BOOK OF NUMBERS), short fiction (Four New Messages), and nonfiction for The New York Times, Harper's Magazine, London Review of Books, The Forward, n+1, and other outlets. In 2017 he was named one of Granta's Best of Young American Novelists. He lives in New York City.
Posted: August 24, 2018