Featured Author Event: Karen Abbott (Brooklyn)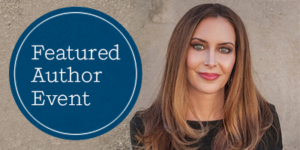 Penguin Random House colleagues are invited to meet and hear author Karen Abbott talk about her New York Times-bestselling book, THE GHOSTS OF EDEN PARK: The Bootleg King, The Women That Pursued Him, and Murder That Shocked Jazz-Age America (Crown Archetype) on Friday, August 23 at Books Are Magic in Brooklyn. This free event takes place from 7:30 to 8:30 p.m., when Abbott will converse with fellow writers Susannah Cahalan and Ada Calhoun. Following an audience Q&A, Abbott will sign copies of her book.
Combining deep historical research with novelistic flair, THE GHOSTS OF EDEN PARK is the unforgettable, stranger-than-fiction story of a rags-to-riches entrepreneur and a long-forgotten heroine, of the excesses and absurdities of the Jazz Age, and of the infinite human capacity to deceive.
In the early days of Prohibition, long before Al Capone became a household name, a German immigrant named George Remus quits practicing law and starts trafficking whiskey. Within two years he's a multi-millionaire. The press calls him "King of the Bootleggers," writing breathless stories about the Gatsby-esque events he and his glamorous second wife, Imogene, host at their Cincinnati mansion, with party favors ranging from diamond jewelry for the men to brand-new cars for the women. By the summer of 1921, Remus owns 35 percent of all the liquor in the United States.
Pioneering prosecutor Mabel Walker Willebrandt is determined to bring him down. Willebrandt's bosses at the Justice Department hired her right out of law school, assuming she'd pose no real threat to the cozy relationship they maintain with Remus. Eager to prove them wrong, she dispatches her best investigator, Franklin Dodge, to look into his empire. It's a decision with deadly consequences. With the fledgling FBI on the case, Remus is quickly imprisoned for violating the Volstead Act. Her husband behind bars, Imogene begins an affair with Dodge. Together, they plot to ruin Remus, sparking a bitter feud that soon reaches the highest levels of government–and that can only end in murder.
Karen Abbott is also the New York Times bestselling author of Sin in the Second City, American Rose, and, most recently, Liar, Temptress, Soldier, Spy, named one of the best books of 2014 by Library Journal, the Christian Science Monitor, and Amazon. A native of Philadelphia, she now lives in New York City.
Karen Abbott photo: © Gilbert King
Posted: August 20, 2019