Featured Author Event: Kate Schatz & Miriam Klein Stahl (NYC)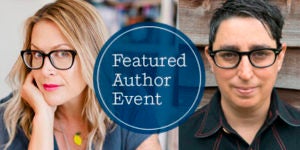 Have Friday night plans? New Yorkers and everyone else have the opportunity to see, hear and meet Kate Schatz and Miriam Klein Stahl, creators of the Ten Speed Press books RAD WOMEN WORLDWIDE and, most recently, RAD GIRLS CAN, at Books Are Magic in Brooklyn. The event begins at 7:30 p.m., with a booksigning to follow the author discussion and audience Q&A.
Schatz and Stahl will share anecdotal insights about the making of RAD GIRLS CAN, a bold and brave collection of stories and art about inspiring and accomplished girls who have made positive impacts on the world before the age of 20. Readers learn about a diverse group of young women who are living rad lives, whether excelling in male-dominated sports like boxing, rock climbing, or skateboarding; speaking out against injustice and discrimination; expressing themselves through dance, writing, and music; or advocating for girls around the world. Each profile is paired with the dynamic paper-cut art that made the authors' first two books New York Times bestsellers.
Kate Schatz is a feminist writer, activist, and educator. In addition to writing the "Rad Women" books, Kate is the co-founder of Solidarity Sundays, a nationwide network of feminist activist groups, and she speaks often about politics, resistance, feminism, race, parenting, and more.
Miriam Klein Stahl is an artist, educator, and activist and the illustrator of the "Rad Women" books. In addition to her work in printmaking, drawing, sculpture, and paper-cut and public art, she is also the cofounder of the Arts and Humanities Academy at Berkeley High School, where she has taught since 1995.
Posted: September 14, 2018