Featured Author Event: Kirsten Gillibrand (San Francisco)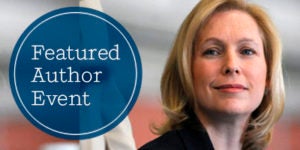 Bay Area colleagues take note: Kirsten Gillibrand, the United States Senator from New York, is discussing her new book, BOLD & BRAVE: Ten Heroes Who Won Women the Right to Vote (Alfred A. Knopf Books for Young Readers), on Friday, November 30, at the Nourse Theater in San Francisco as part of Books Inc's City Arts & Lecture series. This special event begins at 7:30 p.m.
On the eve of the one-hundredth anniversary of the Nineteenth Amendment, which granted women suffrage, BOLD & BRAVE looks both backward and forward. It introduces children to strong women who have raised their voices on behalf of justice–and inspires them to raise their own voices to build our future.
Senator Gillibrand was inspired by her own great-grandmother, grandmother, and mother to be bold and brave – to stand up and fight for what she believes in. But who inspired them? The long chain of women before them who spoke out for what's right–women who taught each generation that followed how to be bold and brave.
The suffragists included in BOLD & BRAVE are: Elizabeth Cady Stanton, Susan B. Anthony, Sojourner Truth, Harriet Tubman, Jovita Idár, Alice Paul, Inez Milholland, Ida B. Wells, Lucy Burns, and Mary Church Terrell.
With gorgeous illustrations by renowned artist Maira Kalman, this is a book that will inspire and uplift, a book to be cherished and shared.
Kirsten Gillibrand has served as United States Senator from New York since 2009. A few of her major accomplishments include leading the effort to repeal "Don't Ask Don't Tell," writing the STOCK Act which made it illegal for members of Congress to financially benefit from insider information, and providing permanent health care and compensation to the 9/11 first responders and community survivors. She is a member of the Senate Armed Services Committee, an advocate for gun control, and a major voice in the fight to reform the justice system for sexual assault survivors in the military and on college campuses. A proponent of transparency in government, Gillibrand was the first member of Congress to post her official daily meetings and personal financial disclosures online.
Posted: November 28, 2018