Featured Author Event: Lauren Gershell (East Hampton, Long Island)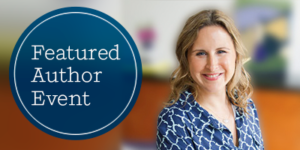 Colleagues spending time in the Hamptons are invited to meet Lauren Gershell, co-author of THAT'S WHAT FRENEMIES ARE FOR (Ballantine). Gershell will be in conversation with Libby Owens and Eva Haber Fisher about Women's Friendships at Book Hampton in East Hampton, NY on Wednesday, July 31. This free event begins at 5:00 p.m.
In this "dishy summer read," Julia Summers seems to have it all: a sprawling Upper East Side apartment, a successful husband, and two adorable children attending the best private school in the city. She relishes wielding influence over her well-heeled girlfriends . . . but her star appears to be fading. That's why, when stranded in Manhattan for the summer as her entire crowd flees to the Hamptons, Julia is on the hunt for the next big thing that will make her the envy of her friends and put her back on top.
Enter Flame, the new boutique gym in her neighborhood. Seductive and transformative, Flame's spin classes are exactly what Julia needs—and demure, naive instructor Tatum is her ticket in. But can she keep her little project under control? Or has she created a monster?
Julia's life is already spiraling out of control when her husband is arrested for fraud and bribery. As her so-called friends turn their backs on her, and Tatum pursues her own agenda, Julia is forced to rethink everything she knew about her world to reclaim her perfect life. But does she even want it back?
Witty and incisive, Sophie Littlefield and Lauren Gershell's THAT'S WHAT FRENEMIES ARE FOR provides an engrossing glimpse into the cutthroat moms' club of the Upper East Side.
Lauren Gershell was born and raised on the Upper East Side of Manhattan, where she now lives with her family. She holds an A.B. and law degree from Columbia University. THAT'S WHAT FRENEMIES ARE FOR is her first novel.
Sophie Littlefield is the author of more than twenty bestselling adult and YA novels. She is the recipient of the Anthony Award and the RT Book Reviews Reviewers' Choice Award. She has been shortlisted for the Edgar, Macavity, Barry, and Crimespree Awards. The New York Times has called her "a regular writing machine."
Posted: July 29, 2019