Featured Author Event: Lauren Mechling (NYC)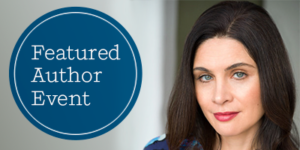 Mark your calendars New York-based colleagues. Author/journalist/editor Lauren Mechling is presenting her debut adult novel, HOW COULD SHE, published by Viking, on Thursday, July 27, at McNally Jackson Booksellers on Prince Street in NYC. Mechling will be in conversation with author/journalist Rumaan Alam at this free event, which begins at 7:00 pm.
Mechling's highly anticipated novel is a hilarious and honest ode to the heartbreak of female friendship. Sunny, Geraldine, and Rachel – old friends since their days in Toronto working entry-level jobs in media – are now living very different lives as 30-somethings in New York.
After a devastating break-up with her fiancé, Geraldine is struggling to get her life back on track in Toronto. Her two old friends, Sunny and Rachel, left ages ago for New York, where they've landed good jobs, handsome husbands, and unfairly glamorous lives (or at least so it appears to Geraldine). Sick of watching from the sidelines, Geraldine decides to force the universe to give her the big break she knows she deserves, and moves to New York City.
Once there, Geraldine realizes that in the digital age, things are seldom as they seem. First, Sunny's life as an It Girl watercolorist is not nearly as charmed as it seemed to Geraldine from Toronto. And Rachel is trying to keep it together as a new mom, writer, and wife but her confidence is waning. Perhaps worst of all, why are Sunny and Rachel–who've always been suspicious of each other–suddenly hanging out without Geraldine?
Hilariously relevant and real, HOW COULD SHE speaks to ever-changing friendships, aspirations, motivations and lives. The debut novel offers readers an inside look at female friendships, the cutthroat world of New York media–from print to podcasting–and a witty exploration of the ways we can and cannot escape our pasts. Through this novel, readers are invited to learn about the raw honesty of friendships and what it can teach us about relationships in general.
Lauren Mechling has written for The New York Times, The Wall Street Journal, Slate, The New Yorker online, and Vogue, where she writes a book column. She's worked as a crime reporter and metro columnist for The New York Sun, a young adult novelist, and a features editor at The Wall Street Journal. A graduate of Harvard College, she lives in Brooklyn with her husband and two children
Posted: June 21, 2019