Featured Author Event: Leigh Bardugo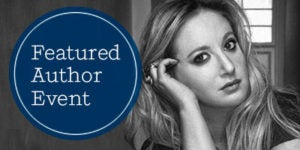 Tonight bestselling author Leigh Bardugo  presents her highly anticipated, entirely new coming-of-age story starring the world's greatest super hero: WONDER WOMAN: Warbringer (Random House Books for Young Readers). The event will take place at the Barnes & Noble store in NYC on 33 E 17th St. beginning at 7:00 p.m. Following a discussion with fellow author Daniel José Older, Bardugo will personalize copies of her new book, pose for photos, and sign backlist titles with purchase of WONDER WOMAN: Warbringer.
In the book, Diana, Princess of the Amazons, longs to prove herself to her legendary warrior sisters. But when the opportunity finally comes, she throws away her chance at glory and breaks Amazon law—risking exile—to save a mere mortal, Alia Keralis. Alia is a Warbringer—a direct descendant of the infamous Helen of Troy, fated to bring about an age of bloodshed and misery. Together, Diana and Alia will face an army of enemies—mortal and divine—determined to either destroy or possess the Warbringer. If they have any hope of saving both their worlds, they will have to stand side by side against the tide of war.
Libba Bray, New York Times bestselling author of The Diviners, praises WONDER WOMAN: Warbinger, calling it  "…straight-up dazzling, every sentence waking up your senses with a 'Yeah, that's right, this is BRAND-NEW, SUCKAS!' punch."
Leigh Bardugo is the #1 New York Times bestselling author of Six of Crows, Crooked Kingdom, and the Shadow and Bone Trilogy. She is the first author in the DC Icons Series, where the DC Comics super hero icons are written by megastar young adult authors.
Posted: September 6, 2017