Featured Author Event: Mara Altman (Brooklyn)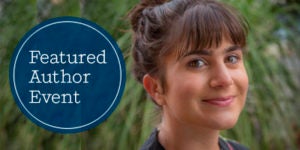 Attention all Brooklynites and everyone else: you are invited to enjoy what promises to be an entertaining evening with Mara Altman, author of the new Putnam book, GROSS ANATOMY: Dispatches From the Front (and Back), on Wednesday, August 22, at WORD Bookstore in Brooklyn.  Described as "an honest, funny, neurotic, and totally gross love child of Mindy Kaling and Mary Roach," Altman will present a talk/reading beginning at 7:30 p.m. and then sign copies of her book following a Q&A with the audience. 
Altman's volatile and apprehensive relationship with her body has led her to wonder about a lot of stuff over the years. Like, who decided that women shouldn't have body hair? And how sweaty is too sweaty? These questions and others like them have led to the comforting and sometimes smelly revelations that constitute GROSS ANATOMY, an essay collection about what it's like to operate "the bags of meat" we call our bodies.
Divided into two sections, "The Top Half" and "The Bottom Half," with cartoons scattered throughout, Altman's book takes the reader on a wild and relatable journey from head to toe–as she attempts to strike up a peace accord with our grody bits. With a combination of personal anecdotes and fascinating research, GROSS ANATOMY holds up a magnifying glass to our beliefs, practices, biases, and body parts and shows us the naked truth: that there is greatness in our grossness.
Altman enjoys writing about issues that embarrass her (e.g., chin hair), because she has found that putting shame on the page defuses the stigma, leaving her with a sense of empowerment and freedom. Her first book, Thanks for Coming, an investigation into love and orgasm, was translated into three languages. Her work has appeared in The New York Times, Salon, and New York magazine, among other publications. Before going freelance, Altman worked as a staff writer for The Village Voice and daily newspapers in India and Thailand. An alumna of Columbia University Graduate School of Journalism, she lives in San Diego with quite a few other hairy beings.
Posted: August 17, 2018