Featured Author Event: Margaret O'Mara (San Francisco)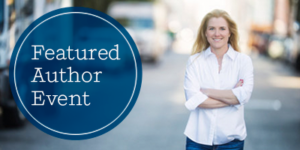 Colleagues in and around the Bay Area are invited to join Penguin Press author Margaret O'Mara for a lunchtime discussion of her new book, THE CODE: Silicon Valley and the Remaking of America. The event , which also includes a book signing, begins at 12:30 p.m. on Thursday, July 18, at Book Passage's Ferry Building location in San Francisco.
Relevant and timely, THE CODE gives readers the true, behind-the scenes history of the people who built Silicon Valley and subsequently shaped American Big Tech as we know it today.
Long before Margaret O'Mara became one of our most consequential historians of the American-led digital revolution, she worked in the White House of Bill Clinton and Al Gore in the earliest days of the commercial Internet. She saw first-hand how deeply intertwined Silicon Valley was with the federal government, and always had been, and how shallow the common understanding of the secrets of the Valley's success actually was.
In the THE CODE, O'Mara deploys a wonderfully rich and diverse cast of protagonists, from the justly famous to the unjustly obscure, across four generations of explosive growth in the Valley, from the Forties to the present, O'Mara has wrestled into magnificent narrative form one of the most fateful developments in modern American history. Perhaps most impressively, She has penetrated the inner kingdom of tech venture capital firms, the insular and still remarkably old-boy world that became the cockpit of American capitalism and the crucible for bringing technological innovation to market, or not.
The transformation of big tech into the engine room of the American economy and the nexus of so many of our hopes and dreams–and increasingly nightmares–can be understood, in O'Mara's skilled hands, as the story of one California valley. As her majestic history makes clear, its fate is the fate of us all.
Margaret O'Mara is Professor of History at the University of Washington. She writes and teaches about the history of U.S. politics, the growth of the high-tech economy, and the connections between the two. She s the author of two previous books, Cities of Knowledge and Pivotal Tuesdays. She received her MA/PhD from the University of Pennsylvania and her BA from Northwestern University. Prior to her academic career, she worked in the Clinton White House and served as a contributing researcher at the Brookings Institution. She lives in the Seattle area with her husband Jeff and their two daughters.
Margaret O'Mara photo: © Jim Garner
Posted: July 16, 2019