Featured Author Event: Matthew Gray Gubler (Brooklyn)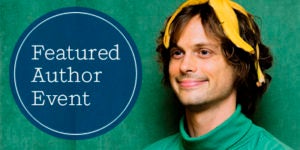 Criminal Minds actor/director Matthew Gray Gubler is also the author and illustrator of a charming and inspiring new book, RUMPLE BUTTERCUP: A Story of Bananas, Belonging, and Being Yourself, published by Random House Books for Young Readers on Tuesday, April 2. That night, beginning at 7:00 p.m., Gubler will appear for a special "meet & greet" at WORD bookstore in Brooklyn.
In Gubler's book, Rumple Buttercup has five crooked teeth, three strands of hair, green skin, and his left foot is slightly bigger than his right. Readers will join him and Candy Corn Carl (his imaginary friend made of trash) as they learn the joy of individuality as well as the magic of belonging.
Matthew Gray Gubler is a storyteller from Las Vegas, Nevada, who directs, paints, writes, acts, and knows magic. He also loves to voice cartoon characters, look for ghosts, and wear soft pajamas.
Posted: March 29, 2019