Featured Author Event: Neil MacGregor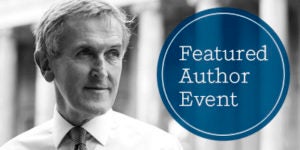 Attention colleagues in New York and Washington, D.C: Neil MacGregor, former head of the British Museum (and author of the bestselling A History of the World in 100 Objects, and the recent Germany: Memories of a Nation) will be discussing his beautifully illustrated new book, LIVING WITH THE GODS: On Beliefs and Peoples (Knopf, Oct. 30) at special events next week in NYC and DC. On Monday (10/29), MacGregor appears at the Morgan Library & Museum (225 Madison Avenue), with his talk to begin at 6:30 p.m. On Thursday (11/1), he will be at The Smithsonian (S. Dillon Ripley Center, 1100 Jefferson Drive, S.W.), doors opening at 6:15 p.m., with his presentation, audience Q&A, and book signing concluding by 8:45 p.m.
LIVING WITH THE GODS is a fascinating and highly accessible look at various cultures' need to turn to religion and/or something bigger than ourselves, at different points in time. Through his examination of several revered objects, readers get a glimpse of the things that man has created throughout the centuries to cope with the greater mysteries of life and death. MacGregor traces the ways in which different societies have understood and articulated their places in the cosmic scheme. He examines mankind's beliefs not from the perspective of institutional religions but according to how shared narratives have shaped societies – and what happens when different narratives run up against each other.
Neil MacGregor was director of the National Gallery, London, from 1987 to 2002 and of the British Museum from 2002 to 2015. His previous books include A History of the World in 100 Objects, Shakespeare's Restless World, and Germany: Memories of a Nation, between them translated into more than a dozen languages. In 2010, he was made a member of the Order of Merit, the UK's highest civil honor. He is now chair of the steering committee of the Humboldt Forum in Berlin.
Posted: October 25, 2018