Featured Author Event: Ocean Vuong (San Francisco)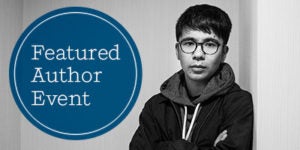 Colleagues based in the Bay Area are invited to join poet/author Ocean Vuong for a discussion of his new Penguin Press book, ON EARTH WE'RE BRIEFLY GORGEOUS, with Penguin author Rebecca Solnit, on Tuesday, June 18, at Green Apple Books on the Park in San Francisco. The event begins at 7:30 pm.
Vuong's debut novel is a shattering portrait of a family, a first love, and the redemptive power of storytelling. With a daring and raw approach to topics like race, class, sexuality and masculinity, Vuong's coming of age story explores the universal experience of self-discovery through his own personal reflection. ON EARTH WE'RE BRIEFLY GORGEOUS is a letter from a son to a mother who cannot read. Written in his late twenties, Little Dog's letter reveals the complexities of a family's history that began before he was born – a history rooted in Vietnam- which goes on to inform major parts of his life his mother has never known, all of it leading to an unforgettable revelation.
Undeniably a story about the interrelatedness of family, self, and everything in between, the novel is also a testament to the fraught yet undeniable love between a single mother and her son. Vuong writes of people caught between disparate worlds, and explores how we heal ourselves and others without forsaking who we are.
In the midst of a turbulent climate, Vuong asks questions that inspire an introspective look at our society and our individual truths. ON EARTH WE'RE BRIEFLY GORGEOUS is as much about the power of telling one's own story as it is about the obliterating silence of not being heard.
Ocean Vuong is the author of the critically acclaimed poetry collection Night Sky with Exit Wounds, winner of the Whiting Award and the T.S. Eliot Prize. His writings have also been featured in The Atlantic, Harper's, The Nation, New Republic, The New Yorker, and The New York Times. Born in Saigon, Vietnam, he currently lives in Northampton, Massachusetts.
Posted: June 14, 2019