Featured Author Event: Ottessa Moshfegh (Washington, DC)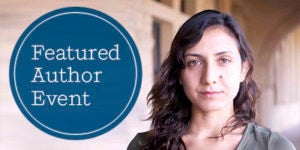 Colleagues in Westminster take note: Penguin Press author Ottessa Moshfegh will be sharing her bold new novel, MY YEAR OF REST AND RELAXATION, a New York Times bestseller, at Politics & Prose at the Wharf in Washington, DC on Wednesday, July 25, from 7:00 to 8:00 pm.
MY YEAR OF REST AND RELAXATION begins with a young woman who has it all: looks, a brand-new degree from Columbia, an easy job at a hip art gallery, an Upper East Side apartment, and a substantial inheritance. Yet this fairy-tale existence is not enough to fill the dark and vacuous hole in our unnamed narrator's heart, which can neither be explained by the loss of her parents, nor her relationships with her boyfriend and best friend.
In the year 2000, our heroine decides to escape her life by taking enough drugs to induce a year-long hibernation. Her plan goes awry, however, when our narrator begins having strange and frightening blackouts as a result of a new drug, and she can no longer hide from what she really needs. Through her humorous and unflinching prose, Moshfegh shines a spotlight on the parts of life we would rather not see, but cannot look away from.
Ottessa Moshfegh is a fiction writer from New England. Her debut novella, MCGLUE, won the Believer Book Award and the Fence Modern Prize in Prose. Moshfegh also penned the short story collection HOMESICK FOR ANOTHER WORLD. Her stories have been published in Granta, The New Yorker, and The Paris Review. She is the recipient of the Pushcart Prize, an O. Henry Award, the Plimpton Discovery Prize, and a grant from the National Endowment for the Arts. EILEEN, Moshfegh's first novel, was shortlisted for the Man Booker Prize and the National Book Critics Circle Award, and won the PEN/Hemingway Award for debut fiction.
Posted: July 19, 2018