Featured Author Event: Owen Matthews (NYC)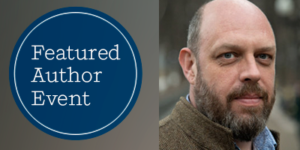 Colleagues in and around New York City are invited to enjoy a reading and signing by Owen Matthews, author of BLACK SUN (Doubleday). This free event takes place on Tuesday, July 23, at Rizzoli Bookstore, beginning at 7:00 p.m.
Matthews' stunning debut novel takes place at the dawn of the 1960s. In order to investigate the gruesome death of a brilliant young physicist, KGB officer Major Alexander Vasin must leave Moscow for Arzamas-16, a top-secret research city that does not appear on any map. There he comes up against the brightest, most cutthroat brain trust in Russia who, on the orders of Nikita Khrushchev himself, are building a nuclear weapon with 3,800 times the destructive potential of the Hiroshima bomb. RDS-220 is a project of such vital national importance that, unlike everyone else in the Soviet Union, the scientists of Arzamas-16 are free to think and act, live and love as they wish…as long as they complete the project and prove to their capitalist enemies that the USSR now commands the heights of nuclear supremacy.
With intricately plotted machinations, secrets and surveillance, corrupt politicos and puppet masters in the Politburo, and one devastating weapon, BLACK SUN is a timely, terrific, and fast-paced thriller set at the height–and in the heart–of Soviet power.
Owen Matthews reported on conflicts in Bosnia, Lebanon, Afghanistan, Chechnya, Iraq and Ukraine and was Newsweek Magazine's Bureau Chief in Moscow from 2006-2016. He is the author of several nonfiction books including Stalin's Children, Glorious Misadventures and An Impeccable Spy.
Posted: July 22, 2019