Featured Author Event: Richard Russo (NYC)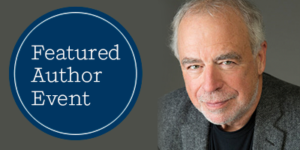 Attention New York City colleagues: celebrated Knopf author Richard Russo will be appearing at the Strand Bookstore in Manhattan on Thursday, August 8, to discuss his new novel CHANCES ARE …. This free event begins at 7:00 pm.
From the Pulitzer Prize-winning author of Empire Falls comes a new revelation: a riveting story about the abiding yet complex power of friendship. One beautiful September day, three men convene on Martha's Vineyard, friends ever since meeting in college circa the sixties. They couldn't have been more different then, or even today–Lincoln's a commercial real estate broker, Teddy a tiny-press publisher, and Mickey a musician beyond his rockin' age. But each man holds his own secrets, in addition to the monumental mystery that none of them has ever stopped puzzling over since a Memorial Day weekend right here on the Vineyard in 1971: the disappearance of the woman each of them loved–Jacy Calloway.
Now, more than forty years later, as this new weekend unfolds, three lives are displayed in their entirety while the distant past confounds the present like a relentless squall of surprise and discovery. Shot through with Russo's trademark comedy and humanity, CHANCES ARE . . . also introduces a new level of suspense and menace that will quicken the reader's heartbeat throughout this absorbing saga of how friendship's bonds are every bit as constricting and rewarding as those of family or any other community.
For both longtime fans and lucky newcomers, CHANCES ARE . . . is a stunning demonstration of a highly acclaimed author deepening and expanding his remarkable achievement.
Richard Russo is the author of eight novels, most recently Everybody's Fool and That Old Cape Magic; two collections of stories; and the memoir Elsewhere. In 2002 he received the Pulitzer Prize for Empire Falls, which, like Nobody's Fool, was adapted to film, in a multiple-award-winning HBO miniseries; in 2016 he was given the Indie Champion Award by the American Booksellers Association; and in 2017 he received France's Grand Prix de Littérature Américaine. He lives in Port¬land, Maine.
Posted: August 7, 2019