Featured Author Event: Ryan Jacobs (Boulder, CO)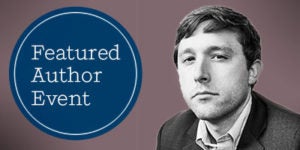 Colorado colleagues in the vicinity of Boulder, take note: Author, writer, and editor Ryan Jacobs will be discussing his book THE TRUFFLE UNDERGROUND: A Tale of Mystery, Mayhem and Manipulation in the Shadowy Market of the World's Most Expensive Fungus, published by Clarkson Potter, on Friday, June 14. This free event will be taking place at Boulder Book Store, and Jacobs will sign copies of his book following his talk.
Jacobs has already received exemplary early reviews of his first book focusing on the true crime within the international truffle trade. Beneath the gloss of star chefs and crystal-laden tables, the truffle supply chain is touched by theft, secrecy, sabotage, and fraud. Farmers patrol their fields with rifles and fear losing trade secrets to spies. Hunters plant poisoned meatballs to eliminate rival truffle-hunting dogs. Naive buyers and even knowledgeable experts are duped by liars and counterfeits.
Deeply reported and elegantly written, this page-turning exposé documents the dark, sometimes deadly crimes at each level of the truffle's path from ground to plate, making sense of an industry that traffics in scarcity, seduction, and cash. Through it all, a question lingers: What, other than money, draws people to these dirt-covered jewels?
Ryan Jacobs is an investigative reporter and has written for The Atlantic, Mother Jones, and Pacific Standard, where he serves as deputy editor and leads the magazine's investigations desk. Before joining Pacific Standard, he covered international crime for The Atlantic's global channel, reporting on the largest diamond heist in French history, international carbon market scams, and the dark side of the truffle trade, among other subjects of intrigue. He graduated summa cum laude from Northwestern University's Medill School of Journalism.
Posted: June 11, 2019