Featured Author Event: Summer Rayne Oakes (NYC)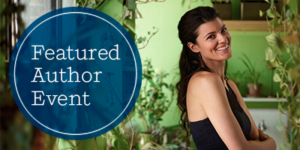 Colleagues in and around NYC are invited to join Optimism Press for a special event featuring the new imprint's very first author, Summer Rayne Oakes. She will be in conversation with imprint founder, Chief Optimist and New York Times bestselling author Simon Sinek at the New York Botanical Gardens in the Edible Academy Amphitheater (2900 Southern Boulevard in the Bronx ) on Wednesday, July 10, from 2:30 to 3:30 p.m., to celebrate the much-anticipated publication of HOW TO MAKE A PLANT LOVE YOU: Cultivating Green Space in Your Home and Heart. As part of Wellness Wednesdays at the NYBG, Oakes will be talking all-things plants and the importance of bringing nature indoors, making for a dynamic conversation between her and Sinek. To RSVP for this event, click here.
HOW TO MAKE A PLANT LOVE YOU isn't your run-of-the-mill interior design guide about hanging ivy on your window sills. It's about the real reason we find ourselves gravitating toward plants. Summer Rayne ties together all the known benefits of taking care of plants—lower blood pressure, lower stress, cleaner air—with a bigger, less obvious benefit: taking care of plants makes you a more life-giving person. The trick is to cultivate a relationship with them as intentionally as you would with another person. Through personal testimonies from plant-lovers across the world and colorful vignettes, Summer Rayne shows us how our chlorophyllous friends can lead to a greater sense of happiness and inner peace.
Leading up to the title's July 9 release, the author has already received enormous praise for her book and advocacy. Michael Brune, Executive Director of the Sierra Club, says "I don't care what color your thumbs are —Summer Rayne Oakes will not only inspire you to connect with nature by taking care of plants but open your eyes to how even the humblest of them takes care of us." Ingrid Fetell Lee, founder of the Aesthetics of Joy, describes HOW TO MAKE A PLANT LOVE YOU as "a beautiful, deeply researched celebration of the power that plants have to change our lives."
Summer Rayne Oakes is an environmental scientist and entrepreneur whose work focuses on health, wellness and sustainability. She founded Homestead Brooklyn, a website and YouTube channel, to help people become more attuned to nature in the city. Her work has been featured by many media outlets, including CNN, The New York Times, Vanity Fair, and Inc. Outside magazine called her a "Top Environmental Activist," and CNBC named her one of their "10 Best Green Entrepreneurs." Summer Rayne lives in Brooklyn, NY, with her pet hen, Kippee.
Optimism Press, founded by Simon Sinek in partnership with Penguin Random House imprint, Portfolio, "is focused on sharing the ideas that will help us advance the greater good, to build a world in which people feel inspired, safe and fulfilled in their professional and personal lives. We will look to the business world, the nonprofit world, the military, politics, education, the clergy, or elsewhere to find authors who can both inspire us and offer us direction on how to build a more optimistic world." Adrian Zackheim, Sinek's editor and President & Publisher of Portfolio, serves as Publisher of the new imprint, while Sinek is Founder and Chief Optimist. Portfolio handles the editorial, production, sales, and marketing functions for Optimism Press.
Posted: July 8, 2019