Featured Author Events: Ryder Carroll (Brooklyn, Manhattan)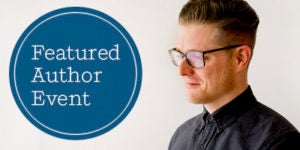 Ryder Carroll is the author of THE BULLET JOURNAL METHOD: Track the Past, Order the Present, Design the Future, on sale from Portfolio today, October 23. Read on for details about this book and two special author events. Everyone is invited to hear Ryder talk about his new book in conversation with Amber Rae at a book launch tonight at Powerhouse Arena (28 Adams St.) in Brooklyn, from 7:00 to 9:00 p.m. Wednesday night, October 24, at NYC's NeueHouse (110 E 25th St.), Ryder will engage in a discussion and experiential event in conversation with New York mag "Science of Us" editor and fellow Portfolio author Melissa Dahl, whose book, CRINGEWORTHY: A Theory of Awkwardness, was published last February, from 6:30 to 8:30 p.m. RSVPs are required for the Wednesday (10/24) event. To RSVP, click here.
People have never been busier. The receipt of information is instantaneous, the choices for communication are endless, the distraction of screens are unavoidable, and the sporadic nature of thoughts are never-ending. Life is no longer just busy; it's messy and it's time to declutter using a pen, some paper, a bullet and a few lines. Creator of the Bullet Journal, Ryder Carroll teaches what it means to live intentionally with his first book, THE BULLET JOURNAL METHOD. Carroll isn't interested in giving a how-to about Bullet Journaling. Through the methodology of Bullet Journaling, Carroll demonstrates "intentional living," defining what's meaningful, shifting focus away from distractions, and working on fewer things to spend more time with what you care about.
To celebrate the release of THE BULLET JOURNAL METHOD, Portfolio is giving away 3 copies of the bullet journal inventor's debut book, each with a Leuchtturm 1917 bullet journal. The first three colleagues to e-mail jlescht@prh.com will win the bundle.
Posted: October 23, 2018