Featured Authors: Debut Novelists Clare Beams and Emily Beyda (Washington, D.C.)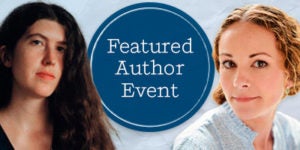 PRH staffers in the vicinity of D.C. are invited to attend a talk featuring two of our debut novelists, Doubleday authors Clare Beams and Emily Beyda. They will be discussing and signing their latest respective releases, THE ILLNESS LESSON and THE BODY DOUBLE, at Politics & Prose Bookstore @ Union Market (1270 5th Street NE) on Tuesday, March 10, beginning at 7:00 pm.
In the follow-up to her extraordinary debut story collection, We Show What We Have, Beams invites readers into a dark and suspenseful new world. At their newly founded school, Samuel Hood and his daughter Caroline promise a groundbreaking education for young women. But Caroline has grave misgivings. After all, her own unconventional education has left her unmarriageable and isolated, unsuited to the narrow roles afforded women in 19th century New England.
When a mysterious flock of red birds descends on the town, Caroline alone seems to find them unsettling. But it's not long before the assembled students begin to manifest bizarre symptoms: Rashes, seizures, headaches, verbal tics, night wanderings. One by one, they sicken. Fearing ruin for the school, Samuel overrules Caroline's pleas to inform the girls' parents and turns instead to a noted physician, a man whose sinister ministrations–based on a shocking historic treatment–horrify Caroline. As the men around her continue to dictate, disastrously, all terms of the girls' experience, Caroline's body too begins to betray her. To save herself and her young charges, she will have to defy every rule that has governed her life, her mind, her body, and her world.
Beyda's dark and glittering debut novel THE BODY DOUBLE tells the suspenseful story of a young woman who is recruited by a stranger to give up her old life and identity to impersonate a reclusive Hollywood star.
A strange man discovers our nameless narrator selling popcorn at a decrepit small-town movie theater and offers her an odd and lucrative position: she will forget her job, her acquaintances, even her name, and move to Los Angeles, where she will become the body double of the famous and troubled celebrity Rosanna Feld. A nervous breakdown has forced Rosanna out of the public eye, and she needs a look-alike to take her place in the tabloid media circus of Hollywood. Overseen by Max, who hired her for the job, our narrator spends her days locked up in a small apartment in the hills watching hidden camera footage of Rosanna, wearing Rosanna's clothes, eating the food Rosanna likes, practicing her mannerisms, learning to become Rosanna in every way. But as she makes her public debut as Rosanna, dining at elegant restaurants, shopping in stylish boutiques, and finally risking a dinner party with Rosanna's true inner circle, alarming questions begin to arise. What really caused Rosanna's mental collapse? Will she ever return? And is Max truly her ally, or something more sinister?
Posted: March 9, 2020