FIFTY SHADES DARKER Adaptation Opening Just in Time for Valentine's Day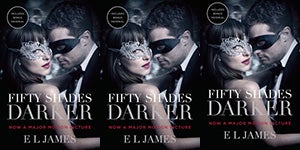 Will you see it this weekend? Fifty Shades Darker, based on the second volume in the #1 bestselling E L James trilogy, published by Vintage, was given the full red carpet treatment for its Los Angeles premiere last week in The Theatre at Ace Hotel. Before hitting the carpet, Ms. James joined the film's director James Foley as well as stars Dakota Johnson and Jamie Dornan at a masquerade ball for fans at Vibiana in downtown L.A. 
Fifty Shades Darker opens Thursday night with preview showings on more than 3,000 screens across North America.
Here's hoping that classic mantra "See the movie. Read the book" will be a popular call to action these coming days.
Watch the Fifty Shades Darker film trailer from Universal Pictures here.
Posted: February 10, 2017