FIGHTING WORDS and WHEN STARS ARE SCATTERED Earn 2021 ALA Odyssey Audio Honors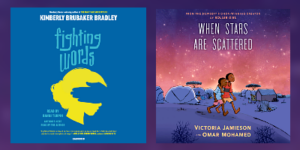 We continue our coverage of awards announced at this year's ALA Midwinter Youth Media Awards with news that the Odyssey Award committee has named two Penguin Random House Audio/Listening Library titles as 2021 Odyssey Honor audiobooks:
FIGHTING WORDS by Kimberly Brubaker Bradley, produced by Karen Dziekonski , and narrated by Bahni Turpin and Kimberly Brubaker Bradley.
WHEN STARS ARE SCATTERED by Victoria Jamieson & Omar Mohamed, produced by Julie Wilson and Kelly Gildea, and narrated by Faysal Ahmed, Barkhad Abdi, and a full cast.
The Odyssey Award is recognition of excellence in children's and young adult audiobooks. These two Odyssey Honors bring PRH Audio's cumulative multi-year Odyssey showing to 23, including 5 wins and 18 honors.
FIGHTING WORDS, published in hardcover by Dial Books for Young Readers, also received a 2021 Newbery Honor Book for its outstanding contribution to children's literature.
WHEN STARS ARE SCATTERED, also a Dial Books for Young Readers publication, additionally received a 2021 Schneider Family Book Award Middle School Honor Book for embodying an artistic expression of the disability experience for child and adolescent audiences.
Congratulations to our authors, narrators, and PRH Audio colleagues.
The ALA Adult title recognitions will be announced late next week. So check back on Igloo.
Posted: January 26, 2021