FINDING DOROTHY: "The Hidden Message of Oz is Girl Power!"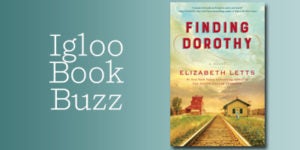 Anyone who has ever been swept up in the magical Land of Oz will enjoy reading Elizabeth Letts' FINDING DOROTHY, our new Igloo Book Buzz selection. Published by Ballantine, this richly imagined novel tells the story behind The Wonderful Wizard of Oz, the book that inspired the iconic film, through the eyes of author L. Frank Baum's wife, Maud.
Turning back time to Hollywood, 1938: As soon as she learns that M-G-M is adapting her late husband's masterpiece for the screen, 77-year-old Maud Gage Baum sets about trying to finagle her way onto the set. Nineteen years after Frank's passing, Maud is the only person who can help the producers stay true to the spirit of the book—because she's the only one left who knows its secrets.
But the moment she hears Judy Garland rehearsing the first notes of "Over the Rainbow," Maud recognizes the yearning that defined her own life story, from her youth as a suffragette's daughter to her coming of age as one of the first women in the Ivy League, from her blossoming romance with Frank to the hardscrabble prairie years that inspired The Wonderful Wizard of Oz. Judy reminds Maud of a young girl she cared for and tried to help in South Dakota, a dreamer who never got her happy ending. Now, with the young actress under pressure from the studio as well as her ambitious stage mother, Maud resolves to protect her—the way she tried so hard to protect the real Dorothy.
"As a young girl," said Elizabeth Letts. "I was immediately drawn to the character of Dorothy—inspired by her courage as she stared down the lion, and confronted the Wicked Witch. So, it was deeply satisfying in researching FINDING DOROTHY to dive into the real lives of Frank and Maud Baum that inspired The Wonderful Wizard of Oz and discover that my instincts were right. I learned that the Baum family was deeply committed to women's equality. The hidden message of Oz is Girl Power!"
Letts' editor, Susanna Porter, Vice President, Executive Editor, Ballantine, said, "We're thrilled to be publishing Elizabeth's third book with Ballantine, and amazingly, she has turned from writing two nonfiction bestsellers to producing this marvelous novel about the actual events and the people who inspired first the book and then the movie of The Wizard of Oz. Maud Gage Baum, wife of Oz author L. Frank Baum, is an unforgettable heroine. Following her and Frank's path to finding the young girl who inspired Baum's classic story is an unforgettable read.
Posted: February 13, 2019