First-Ever DR. SEUSS Graphic Novels to Launch in Spring 2024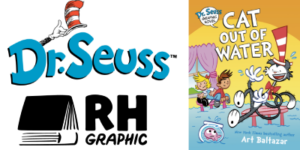 In 2024, Random House Graphic, an imprint of Random House Children's Books, together with Dr. Seuss Enterprises, will publish the first-ever line of graphic novels starring classic Dr. Seuss characters in all-new stories. The inaugural Dr. Seuss graphic novel program list features three chapter book series penned by premier comic book creators, each starring an iconic Dr. Seuss character—the Cat in the Hat, the Grinch, and Sam-I-Am—in brand-new adventures.
The first installment of the Cat in the Hat series, CAT OUT OF WATER, by New York Times bestselling author Art Baltazar, will release on April 30, 2024. Next up will be a story featuring the Grinch, told by Kaeti Vandorn, inspired by HOW THE GRINCH STOLE CHRISTMAS! (Fall 2024), followed by a GREEN EGGS AND HAM–inspired story featuring Sam-I-Am and told by two-time Eisner Award–winner James Kochalka (Spring 2025). The authors will create subsequent titles in each character's series.  
CAT OUT OF WATER (A Dr. Seuss Graphic Novel) is available for pre-order now, and Random House Graphic released a first look at the cover art today. On-sale dates for the next titles in the Dr. Seuss graphic novel publishing program will soon be announced.  
"Chapter book graphic novels are one of the fastest-growing categories in the industry, and we are absolutely over the moon to bring Dr. Seuss's iconic characters to life in a new way that will not only excite kids, but also get more kids reading," says Whitney Leopard, Senior Editor, Random House Graphic. "It is an honor to work with the lineup of comic book creators we have with Art, James, and Kaeti, and I can't wait for kids to get their hands on these new Dr. Seuss adventures."  
Art Baltazar and James Kochalka will appear at New York Comic Con to promote this special milestone for Dr. Seuss Publishing— starting with a Seussian celebration in the Family HQ room on Thursday, October 12, including exclusive giveaways and photo ops with the Cat in the Hat and Thing 1 and Thing 2.
ART BALTAZAR is a super-cartoonist machine from the heart of Chicago! He's all about peace, love, and joy. He defines cartoons and comics not only as an art style, but as a way of life. Art is a creative force behind the Eisner Award–winning Itty Bitty Hellboy and the New York Times bestselling, Eisner and Harvey award-winning DC Comics' Tiny Titans, and the artist of the DC Super-Pets children's book series.  
JAMES KOCHALKA is a wildly prolific artist and has been creating iconic indie comics and bizarrely catchy punk rock since the early '80s. He is a two-time winner of the prestigious Eisner Award, a four-time Ignatz Award winner, and a Harvey Award winner. His comics are noted for their blending of the real and the surreal. Largely autobiographical, Kochalka's cartoon expression of the world around him includes such real-life characters as his wife, children, cat, friends, and colleagues, but always filtered through his own observations and flights of whimsy. In March 2011, he was declared the cartoonist laureate of Vermont, serving a term of three years.  
Posted: October 11, 2023