First-Ever RIF Quiz Show on Facebook Live and Instagram Connects Readers to Exciting New Books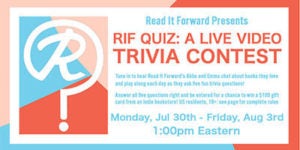 Read It Forward (RIF), the Penguin Random House community that helps readers discover exciting new books and classic reads, has launched its first-ever quiz show on Facebook Live and Instagram. The Read It Forward Quiz Show will take place daily at 1:00 pm (EDT) from July 30 through August 3, and feature trivia-like questions related to Penguin Random House books on the Indie Next List, comprised of independent bookseller-nominated favorite handsells. Each episode will provide viewers a daily chance to win a $100 gift certificate to a sponsoring independent bookstore, which can be redeemed on each bookstore's e-commerce site.
During each ten-minute episode, viewers will be presented with five questions inspired by that day's featured book. The public can tune in on Read It Forward's Facebook and Instagram pages and answer the questions via a submission form on the Read It Forward site. Everyone who answers all the questions correctly will be entered into a sweepstakes to win the gift certificate. Participating bookstores include BookHampton, Bookshop Santa Cruz, and Warwick's.
The featured titles on the Read It Forward Quiz Show include:
Abbe Wright and Emma Shafer, Read It Forward editors and RIF Quiz Show hosts, say, "We're always looking for unique ways to connect with readers and let them in on books that will transport them. Inspired by HQ, the popular online trivia game show, the RIF Quiz Show should be a fun way for people to discover new summer reads and try their hand at trivia, while celebrating independent bookstores."
Please note: Penguin Random House employees are not eligible to participate in this sweepstakes.
Posted: July 29, 2018