First Look Film Preview: James Baldwin's "IF BEALE STREET COULD TALK" Directed by Barry Jenkins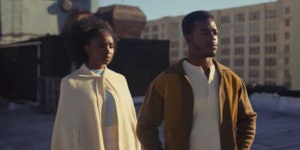 In what surely is one of 2018's most anticipated screen adaptations, the film version of James Baldwin's classic fiction IF BEALE STREET COULD TALK will be coming to theatre screens this fall, marking the return of Barry Jenkins, the Oscar-winning director of "Moonlight," which won Academy Awards in 2017 for Best Picture and Best Adapted Screenplay. IF BEALE STREET COULD TALK will premiere next month at the Toronto International Film Festival.
Vintage will publish a movie tie-in of the beloved Baldwin 1974 novel of the fates of a young couple who become enmeshed in the U.S. criminal-justice system.
Jenkins wrote the screenplay and directed the film, being distributed by Annapura Pictures, which stars Kiki Layne and Stephan James reuniting with many of the behind-the-camera talent with whom he collaborated on "Moonlight."
Click here to be among the first to see the terrific preview trailer, which opens with a voice-over from Baldwin.
Posted: August 3, 2018