First Modern Library Torchbearers Series Titles Released This Week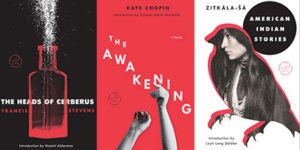 Random House's Modern Library has launched a new trade paperback series, Modern Library Torchbearers, to "honor a more inclusive vision of classic books" by "recognizing women who wrote on their own terms, with boldness, creativity, and a spirit of resistance."
The inaugural list of books – repackaged, and introduced by a contemporary woman writer – debuted on Tuesday, May 21, with these three titles:
AMERICAN INDIAN STORIES by Zitkála-Sá, with an introduction by Layli Long Soldier
THE HEADS OF CERBERUS by Francis Stevens, with an introduction by Naomi Alderman
PASSING by Nella Larsen, with an introduction by Kaitlyn Greenidge
Three more titles in the Modern Library Torchbearers series will be released on June 18:
THE AWAKENING by Kate Chopin, with an introduction by Carmen Maria Machado
LADY AUDLEY'S SECRET by Mary Elizabeth Braddon, with an introduction by Flynn Berry
VILLETTE by Charlotte Brontë, with an introduction by Weike Wang
"The collection started with our desire to use the Modern Library as a platform to call out excellent but largely—and unjustly—forgotten books, especially those that may have been overlooked because of institutional or genre-based bias," Mika Kasuga, editor for the series, and editor and publishing manager at Modern Library and Random House, told Publishers Weekly. "Francis Stevens (whose real name was Gertrude Barrows Bennett) created the subgenre of dark fantasy, which now includes authors like Neil Gaiman, Leigh Bardugo, and Tomi Adeyemi, but I'd never heard of her. Zitkála-Sá was a fascinating woman and a powerful activist—she founded the National Council of American Indians in 1926, but that doesn't even begin to cover everything she accomplished—who deserves more than a Wikipedia page as her biography."
The cover for each book was designed by women working in Random House's design department, and the Modern Library colophon, which traditionally depicts a promethean torchbearer, has been newly rendered as a woman for the series.
"Our canon reflects what and who we, as a society, value," said Kasuga. "It's our list of essential reading, cultural touchstones, and the most brilliant writers who have ever lived. Now that we're starting to have some very meaningful conversations about diversity and recognizing the importance of different voices, it feels like an excellent time to examine our classical canon: to question what we consider to be the best books, and why. Especially since, amazingly, these books—by extraordinary women, about subversive women, that challenge what the 'ideal' woman should be—do exist."
Posted: May 22, 2019