For Colleagues with College-Bound Teens: Ballantine Author Monique Rinere Shares Valuable Stories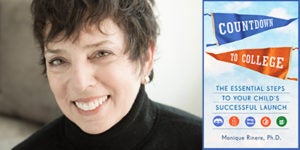 This time of year, parents with teens bound for college are grappling with how to best help their children make a smooth transition to this all-important next life chapter of their lives. Dr. Monique Rinere's COUNTDOWN TO COLLEGE: The Essential Steps to Your Child's Successful Launch (Ballantine) presents a unique month-by-month road map to a college experience that is rich, rewarding, and successful for teens and parents alike. Dr. Rinere, a three-time Ivy League dean, distills lessons and shares stories (some cautionary, some entertaining, all helpful) from her long college advisory career.
In this "Behind the Pages" interview, Dr. Rinere offers insights into the creation of this book, her research process, and the best ways parents and students can use her valuable intel to gear up for college success.
What inspired you to write COUNTDOWN TO COLLEGE?
In my many years of advising college students and their parents at Princeton, Harvard, and Columbia, I saw many making the same mistakes over and over, mistakes that either detracted needlessly from the college experience or increased the time it took for the student to finish their degree. I wrote the book to help readers avoid the common pitfalls that trip up so many and to help parents relax, knowing they are doing all they can to help their child make a great transition to college.
You present, in a very user-friendly manner, such important advice, tips and cautionary anecdotes for college-bound students and their parents. How much of your book is based on your own personal experiences and what new discoveries were made as you created your manuscript?
Ninety percent of the book is based on my conversations and interactions with students and their parents. I wrote a full outline for the book about ten years ago and just kept adding to it from my daily work. I feel incredibly grateful to the students and their parents for letting me into their lives during the child's college journey.
What are the best ways for readers to get the most out of your book as part of the college preparation process?
I would start reading it even before students have their college acceptances and rejections in hand so that they have done some real in-depth thinking about their options and have a high level of confidence when faced with that moment of decision. The sections about paying for college, assessing college fit, and the wisdom of the gap year are especially relevant to any high school student and their parents as they begin to talk about the future. Once the decision has been made, I would read it month by month for continuing insights and, above all, to know that you are doing all you can to set your child up for college success.
Posted: March 5, 2019