Forché, Hong, Kelley Win American Book Awards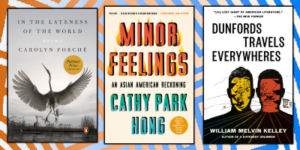 The winners of the forty-second annual American Book Awards have been announced by the Before Columbus Foundation and include three authors and one illustrator published by Penguin Random House imprints: Carolyn Forché, Cathy Park Hong, William Melvin Kelley, and Aiki Kelley.
The American Book Awards were created to provide recognition for outstanding literary achievement from the entire spectrum of America's diverse literary community. The purpose of the awards is to honor literary excellence without limitations or restrictions. The award winners range from well-known and established writers to under-recognized authors and first works. There are no quotas for diversity, the winners list simply reflects it as a natural process. The Before Columbus Foundation views American culture as inclusive and has always considered the term "multicultural" to be not a description of various categories, groups, or "special interests," but rather as the definition of all American literature.
The 2021 American Book Award winners will be formally recognized during an online ceremony on Sunday, September 19.
Our winners
Carolyn Forché: IN THE LATENESS OF THE WORLD (Penguin Press)
Cathy Park Hong: MINOR FEELINGS: An Asian-American Reckoning (One World)
William Melvin Kelley (author) and Aiki Kelley (illustrator): DUNFORDS TRAVELS EVERYWHERES (Anchor)
Congratulations to Ms. Forché, Ms. Hong, Mr. Kelley, and Ms. Kelley, as well as their editors and publishers.
To read the judges' citations and view the complete list of this year's American Book Awards winners, click here.
Posted: August 24, 2021