Four Berkley Authors Celebrate Galentine's Day 2021 via Zoom (2/13)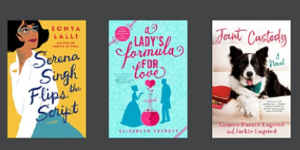 East City Bookshop welcomes Berkley authors Sonya Lalli, Elizabeth Everett, Lauren Baratz-Logsted & Jackie Logsted for a special Galentine's Day 2021 virtual celebration via Zoom on Saturday, February 13 at 4:00 pm (ET).
In Sonya Lalli's SERENA SINGH FLIPS THE SCRIPT, Serena Singh is tired of everyone telling her what she should want–and she is ready to prove to her mother, her sister, and the aunties in her community that a woman does not need domestic bliss to have a happy life.
Lalli is a Canadian writer of Indian heritage. She studied law in her hometown of Saskatoon and at Columbia University in New York, and later completed an MA in creative writing and publishing at City, University of London. Sonya has a black belt in tae kwon do and loves travel, yoga, and cocktail bartending. She lives in Toronto with her husband.
Elizabeth Everett's A LADY'S FORMULA FOR LOVE asks and answers the question: What is a Victorian lady's formula for love? Mix one brilliant noblewoman and her enigmatic protection officer. Add in a measure of danger and attraction. Heat over the warmth of humor and friendship, and the result is more than simple chemistry–it's elemental.
Everett lives in upstate New York with her family. She likes going for long walks or (very) short runs to nearby sites that figure prominently in the history of civil rights and women's suffrage. A Lady's Formula for Love is her first novel, inspired by her admiration for rule breakers and belief in the power of love to change the world.
In JOINT CUSTODY, written by the mother-daughter team of Lauren Baratz-Logsted and Jackie Logsted, a mischievous dog takes matters into his own paws when his beloved owners split up in this offbeat romantic comedy.
Lauren Baratz-Logsted is the author of 40 books for adults, teens and children, including The Sisters 8 series for young readers which she created with her husband Greg Logsted and their daughter Jackie. Her books have been published in 15 countries. She has yet to meet a jigsaw puzzle that could defeat her. Lauren lives with her family in Connecticut where, surprisingly, she has a cat.
Jackie Logsted is a college student studying film, screenwriting, and American Studies, training to write and direct movies. She created The Sisters 8 series with her mother and father, and had a short story published in Ink Stains Vol. 7. She knows her cat would be jealous to find out she wrote a book about a dog, so she chooses not to tell him. At college, she runs into many dogs, and never condescendingly calls them "buddy."
!! As a reminder, if you are posting to a personal or other non-PRH account you must include the hashtag #TeamPRH !!
Posted: February 10, 2021