Francine Rivers Discusses the Film Adaptation of Her Multnomah Bestseller, REDEEMING LOVE, Opening Today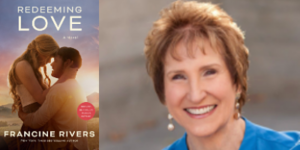 Francine Rivers' REDEEMING LOVE published by Multnomah, was adapted into a major motion picture, released and distributed by Universal Pictures in U.S. and Canadian theaters today, Friday, January 21. A powerful and timeless love story that takes place against the backdrop of the California Gold Rush of 1850, the film was directed by D.J. Caruso and centers on Angel (played by Abigail Cowen, whose credits include Fate: The Winx Saga and Sabrina), who was sold into prostitution as a child. She has survived through hatred and self-loathing, until she meets Michael Hosea (portrayed by Tom Lewis, Gentleman Jack) and discovers there is no brokenness that love can't heal.
REDEEMING LOVE has long been in the Penguin Random House family. It was originally published as a trade paperback in 1991 under Bantam and sold 120,000 copies. Shortly after, Rivers obtained the rights to the manuscript once again, edited it to reflect more of her personal faith journey, and republished it in 1997 with Multnomah (acquired by Random House in 2006). Since then, Multnomah has released several editions in both paperback and hardcover and has also published spin-off book products including a devotional and companion study. Today, there are more than 40 editions of the novel in 30 languages, and more than three million copies have been sold worldwide.
In this "From Page to Screen" Igloo interview, Francine Rivers discusses how her novel became a film, her involvement in the Page to Screen process, and what accounts for her book's enduring appeal.
How did it feel to see your book become a major motion picture?
This question has been coming up often, and I must say that every day that brings us closer to the movie being released into theaters adds to my excitement.  It's been a long journey to see this story on the big screen.  The main goal has always been to make sure the central message (God loves you!) remains the heart and soul of the movie.  That message is clear.  I couldn't be more delighted with the production.
What was your involvement in the Page to Screen process?
Over the years with other options, the character of Michael didn't come across the way it must.  When Cindy Bond of Mission Pictures approached us, I decided to write a sample script of what I felt needed to be seen.  I read a few books on how to write a script, loaded final draft onto my computer, and took a whack at it, never expecting they would use it.  They bought it!  When D.J. Caruso pursued the job of directing the movie, we worked together on the script.  He restructured it and we strengthened scenes.  It was a collaborative effort to bring a powerful redemptive story to the screen.  I was also involved in the auditions and selection of the actors – especially Abigail Cowen and Tom Lewis, who played the leading roles.  They are wonderful!
Why has REDEEMING LOVE become such an enduring classic, and how do you feel that it is now poised to reach an even larger audience?
I believe people long for the faithful, unconditional, long-lasting love that only God can give. REDEEMING LOVE is based on the book of Hosea from the Bible which is an allegory about God's love for His people. Michael lives out Christlike love for Angel.  Few know how passionate the Lord is for His people, how long-suffering He is in waiting for us to love Him back.  In these difficult times when people are isolated and lonely, fearful, and often desperate, they need to know God loves them.  He is near, not far away.  He hears our inner thoughts and worries and cares.  His arms are open wide in welcome.  But it is ultimately our choice if we want a personal relationship with Him. But, oh, when we surrender, we can have peace, find purpose, and see our lives being transformed.
To watch the REDEEMING LOVE trailer, click on the arrow in the screen below.

Posted: January 20, 2022