Frank Herbert's DUNE Enjoys Oscar Sales Bump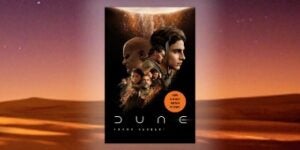 Sales for Frank Herbert's DUNE (Ace), one of the bestselling science fiction novels of all time, jumped 50% over Oscar weekend, with continuing robust sales expected for the next several weeks. The film adaptation of DUNE won 6 Academy Awards, more than any other film this year, landing Oscars in the following categories: Best Visual Effects; Best Score; Best Cinematography; Best Film Editing; Best Production Design; and Best Sound.
The movie tie-in edition was a New York Times bestseller when it was released last fall, with 400,000 copies in print. Ace's mass market edition has been #1 on the national Indie Bestseller list every week since July of last year.
Herbert's enduring classic was transformed from page to the screen by director Denis Villeneuve (whose credits include Arrival and Blade Runner 2049) and stars Timothée Chalamet, Zendaya, Jason Momoa, and Rebecca Ferguson.
A mythic and emotionally charged hero's journey, DUNE tells the story of Paul Atreides, a brilliant and gifted young man born into a great destiny beyond his understanding, who must travel to the most dangerous planet in the universe to ensure the future of his family and his people. As malevolent forces explode into conflict over the planet's exclusive supply of the most precious resource in existence—a commodity capable of unlocking humanity's greatest potential—only those who can conquer their fear will survive.
Posted: April 5, 2022