Frank Wilczek In Conversation with Steven Pinker via Crowdcast (1/14)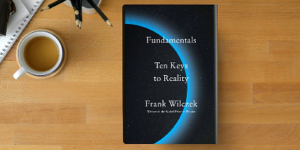 Frank Wilczek, author of FUNDAMENTALS: Ten Keys to Reality (Penguin Press), will discuss his new book with Steven Pinker, at a virtual event hosted by Porter Square Books via Crowdcast on Thursday, January 14 at 7:00 pm (ET).
In Fundamentals, Nobel laureate Frank Wilczek offers the reader a simple yet profound exploration of reality based on the deep revelations of modern science. With clarity and an infectious sense of joy, he guides us through the essential concepts that form our understanding of what the world is and how it works. Through these pages, we come to see our reality in a new way–bigger, fuller, and stranger than it looked before.
Synthesizing basic questions, facts, and dazzling speculations, Wilczek investigates the ideas that form our understanding of the universe: time, space, matter, energy, complexity, and complementarity. He excavates the history of fundamental science, exploring what we know and how we know it, while journeying to the horizons of the scientific world to give us a glimpse of what we may soon discover. Brilliant, lucid, and accessible, this celebration of human ingenuity and imagination will expand your world and your mind.
Frank Wilczek won the Nobel Prize in Physics in 2004 for work he did as a graduate student. He was among the earliest MacArthur fellows, and has won many awards both for his scientific work and his writing. He is the author of A Beautiful Question, The Lightness of Being, Fantastic Realities, Longing for the Harmonies, and hundreds of articles in leading scientific journals. His "Wilczek's Universe" column appears regularly in the Wall Street Journal. Wilczek is the Herman Feshbach Professor of Physics at the Massachusetts Institute of Technology, founding director of the T. D. Lee Institute and chief scientist at the Wilczek Quantum Center in Shanghai, China, and a distinguished professor at Arizona State University and Stockholm University.
!! As a reminder, if you are posting to a personal or other non-PRH account you must include the hashtag #TeamPRH !!
Posted: January 12, 2021