Free Library of Philadelphia Virtual Event, with Samantha Irby and Jia Tolentino Talking via Crowdcast (4/30)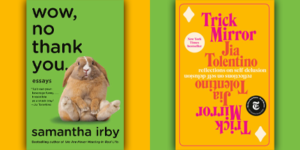 Samantha Irby, author of WOW, NO THANK YOU. (Vintage), an instant #1 New York Times bestseller, and Jia Tolentino, author of TRICK MIRROR (Random House), a NYT bestseller and a finalist for the PEN/Diamond-Spieelvogel Award for the Art of the Essay, are having a conversation at a Free Library of Philadelphia virtual event via Crowdcast on Thursday, April 30, at 7:30pm (ET).
From Samantha Irby–beloved author of New York Times bestselling We Are Never Meeting in Real Life, WOW, NO THANK YOU. is a rip-roaring, edgy and unabashedly raunchy new collection of hilarious essays. Irby at her most unflinching, riotous, and relatable.
TRICK MIRROR is an enlightening, unforgettable trip through the river of self-delusion that surges just beneath the surface of our lives. This is a book about the incentives that shape us, and about how hard it is to see ourselves clearly through a culture that revolves around the self. Tolentino is a staff writer at The New Yorker. Raised in Texas, she studied at the University of Virginia before serving in Kyrgyzstan in the Peace Corps and receiving her MFA in fiction from the University of Michigan.
!!A reminder for PRH employees: If you are posting this article to a personal or other non-PRH account you must include the hashtag #TeamPRH.!!
Posted: April 29, 2020