French Connection: Knopf's Jonathan Segal Converses with Author Martin Walker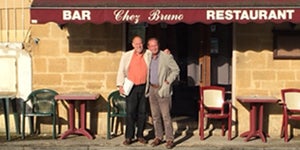 Jonathan Segal, Vice President, Senior Editor, Knopf, recently was able to get together with one of his long-standing authors, Martin Walker, in the Dordogne region of France, where Walker has a home and has set his wonderful "Bruno, Chief of Police" series of mysteries. (Segal has a home in the Lot region of France, which is contiguous.) Editor and author met in the tiny village of St. Pompon where, by total coincidence, they stumbled across a restaurant called Chez Bruno. This photo op (with Walker on the right) was too good to resist. Then they went to work on the latest Bruno manuscript (to be published next year), glasses of rosé at hand to aid in the process, and finally they got to reminiscing.
Segal: As I was reading this latest novel, I thought again of how much joy there is in these books—how much, through Bruno, you express your infinite pleasure in being able to spend as much time as you do in the Dordogne. Before I ask you about the origin of the Bruno character—and other repeating characters in the novels as well—tell me, what first attracted you to the region? What keeps you here?
Walker: What attracted me first were the usual French pleasures of the street markets, the croissants for breakfast, the food and wine and restaurants and the ridiculously charming landscape with medieval castles and ancient stone churches perched on cliffs above winding rivers. Then I began visiting the Périgord caves with their prehistoric paintings and engravings and it was like peeling layer after layer from an onion as I became ever more fascinated by these remote ancestors of ours. At the same time I was visiting the vineyards, getting to know the vignerons and learning more about wine, which got me increasingly interested in cooking, and the whole place began to open for me like a flower.
S: And what was on your mind as you created Bruno?
W: In our local tennis club, I began playing doubles on Friday mornings with a bunch of guys and we all brought wine and food and one of our number always made omelets for us all with his own truffles. Sometimes he brought venison or even wild boar. This was Pierrot, a keen hunter and great cook, an army veteran who was our village policeman and a genuinely decent guy. I already had the perfect setting for a novel in the Périgord itself, and now I had the perfect character in Pierrot, but since he was a cop I now had to figure out how to write a mystery story.
S: Were you at all concerned about your friends recognizing themselves in your books?
W: I was a little nervous when they started being published in French, but the mayor told me he was pleased that he had not turned out to be the murderer. And since the English-language and Dutch and German versions had already been out for three and four years, before the French translation, Pierrot was already finding foreign tourists asking for him in the local markets so he could sign their books and have his photo taken with their wives. Then foreign TV crews and journalists began arriving in our village, and one morning in the café I was enjoying my croissant when three local women of a certain age arrived solemnly before me. Their arms were folded beneath their breasts, and I have been married long enough to know what that stance signifies. Monsieur Martin, they said, next time you have cameras here, you have to give us three days' notice. Of course, mesdames, I replied, but why? Because, they replied in unison, we want to go to the hairdresser.
S: It sounds like it has been a great ride. As things stand right now, what has been your greatest satisfaction with the Bruno books?
W: Obviously the world-wide sales of the books, now close to 3 million, have been very gratifying. But the real reward is the ever-growing number of Americans, Germans, Italians, Australians and others whom I now meet in the Périgord who have been attracted by my Bruno stories. They come to the markets and look for a local policeman and ask if he is Bruno (several of them are now claiming to be the "real" one). They visit the Bergerac vineyards asking for the wines Bruno likes, go to the restaurants for dishes he enjoys, to the prehistoric cave paintings that so intrigue him and they rent canoes for the trip he took down the Vézère River. Since the Périgord economy depends heavily on tourism, being able to introduce so many more people to this magical region has been a very welcome development.
Special Thanks to Knopf Publicist Katie Schoder for making this feature interview possible.
Posted: July 24, 2017