Friday Reads: Alaska Day!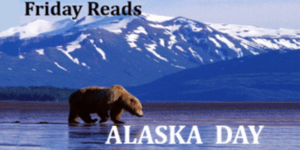 Today, Friday, October 18, is Alaska Day  – a legal holiday in the U.S. state of Alaska celebrating the anniversary of the formal transfer of the Territory of Alaska from Russia to the United States, which occurred on Friday, October 18, 1867. To honor the majestic 49th state, we've surveyed our catalog for the best fiction and nonfiction (for all ages) set in Alaska. We invite you to take a reading tour through Alaska's history, culture and singular landscape along with the fiction it has inspired: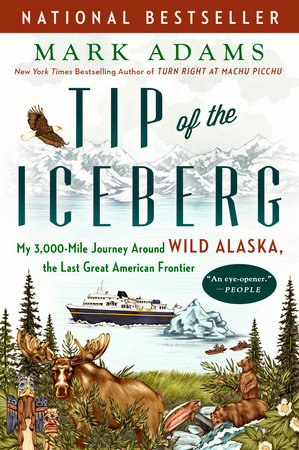 TIP OF THE ICEBERG: MY 3,000-MILE JOURNEY AROUND WILD ALASKA, THE LAST GREAT AMERICAN FRONTIER by Mark Adams
From the acclaimed, bestselling author of Turn Right at Machu Picchu, a fascinating and funny journey into Alaska, America's last frontier, retracing the historic 1899 Harriman Expedition.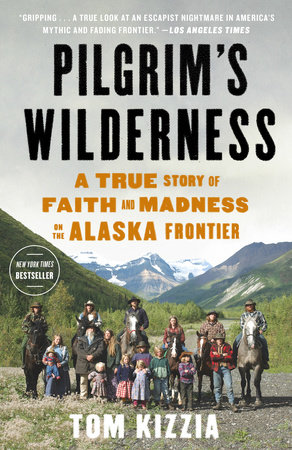 PILGRIM'S WILDERNESS: A TRUE STORY OF FAITH AND MADNESS ON THE ALASKA FRONTIER by Tom Kizzia
Into the Wild meets Helter Skelter in this riveting true story of a modern-day homesteading family in the deepest reaches of the Alaskan wilderness—and of the chilling secrets of its maniacal, spellbinding patriarch. In this powerful piece of Americana, written with uncommon grace and high drama, veteran Alaska journalist, Tom Kizzia uses his unparalleled access to capture an era-defining clash between environmentalists and pioneers ignited by a mesmerizing sociopath who held a town and a family captive.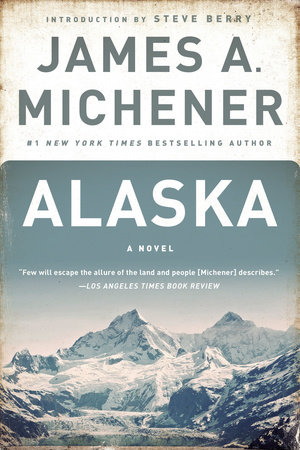 ALASKA: A NOVEL by James A. Michener, Steve Berry
In this sweeping epic of the northernmost American frontier, James A. Michener guides us through Alaska's fierce terrain and history, from the long-forgotten past to the bustling present. As his characters struggle for survival, Michener weaves together the exciting high points of Alaska's story: its brutal origins; the American acquisition; the gold rush; the tremendous growth and exploitation of the salmon industry; the arduous construction of the Alcan Highway, undertaken to defend the territory during World War II. A spellbinding portrait of a human community fighting to establish its place in the world, Alaska traces a bold and majestic saga of the enduring spirit of a land and its people.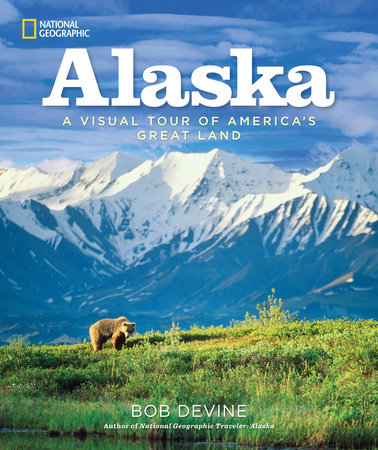 ALASKA: A VISUAL TOUR OF AMERICA'S GREAT LAND by Bob Devine
From the lush rainforests of the Inside Passage, to the desolate beauty of the far north, Alaska's natural wonders never cease to enthrall and amaze. Join National Geographic on this spectacular visual journey through seven distinct geographic regions of this amazing state, bringing each region alive through brisk historical narrative and lavish color photography, art, and maps.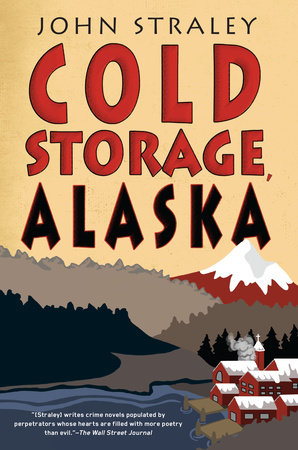 COLD STORAGE, ALASKA by John Straley
An offbeat, often hilarious crime novel set in the sleepy Alaskan town of Cold Storage from the Shamus Award winning author of the Cecil Younger series. Clive "The Milkman" McCahon returns to his tiny Alaska hometown after a seven-year jail stint for dealing coke. He has a lot to make up to his younger brother, Miles, who has dutifully been taking care of their ailing mother. But Clive doesn't realize the trouble he's bringing home. His vengeful old business partner is hot on his heels, a stick-in-the-mud State Trooper is dying to bust Clive for narcotics, and, to complicate everything, Clive might be going insane—lately, he's been hearing animals talking to him. Will his arrival in Cold Storage be a breath of fresh air for the sleepy, depopulated town? Or will Clive's arrival turn the whole place upside down?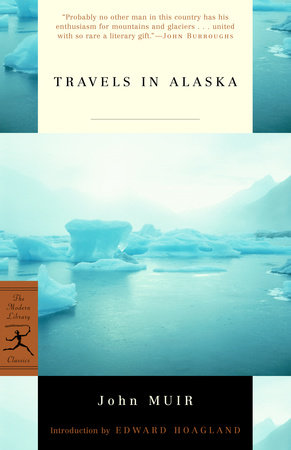 TRAVELS IN ALASKA by John Muir, Edward Hoagland
In the late 1800s, John Muir made several trips to the pristine, relatively unexplored territory of Alaska, irresistibly drawn to its awe-inspiring glaciers and its wild menagerie of bears, bald eagles, wolves, and whales. Half-poet and half-geologist, he recorded his experiences and reflections in Travels in Alaska, a work he was in the process of completing at the time of his death in 1914. As Edward Hoagland writes in his Introduction, "A century and a quarter later, we are reading [Muir's] account because there in the glorious fiords . . . he is at our elbow, nudging us along, prompting us to understand that heaven is on earth—is the Earth—and rapture is the sensible response wherever a clear line of sight remains."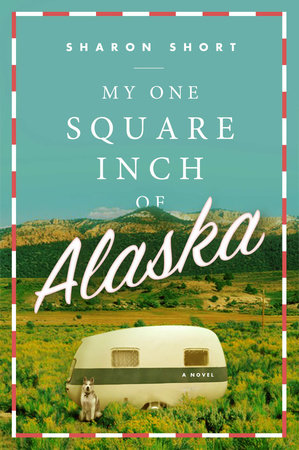 MY ONE SQUARE INCH OF ALASKA: A NOVEL by Sharon Short
A pair of siblings escapes—along with a Siberian Husky—the strictures of their 1950s industrial Ohio town on the adventure of a lifetime. A portrait of a singular American moment, My One Square Inch of Alaska is a moving tale of exploration and love—human and canine—that dares to believe the impossible.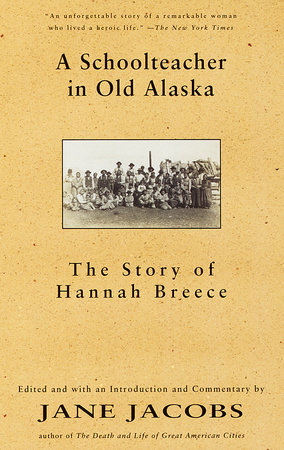 A SCHOOLTEACHER IN OLD ALASKA: THE STORY OF HANNAH BREECE by Hannah Breece
When Hannah Breece came to Alaska in 1904, it was a remote lawless wilderness of prospectors, murderous bootleggers, tribal chiefs, and Russian priests. She spent fourteen years educating Athabascans, Aleuts, Inuits, and Russians with the stubborn generosity of a born teacher and the clarity of an original and independent mind. Jane Jacobs, Hannah's great-niece, here offers an historical context to Breece's remarkable eyewitness account, filling in the narrative gaps, but always allowing the original words to ring clearly. It is more than an adventure story: it is a powerful work of women's history that provides important—and, at times, unsettling—insights into the unexamined assumptions and attitudes that governed white settler's behavior toward native communities at the turn of the century.
FOR YOUNGER READERS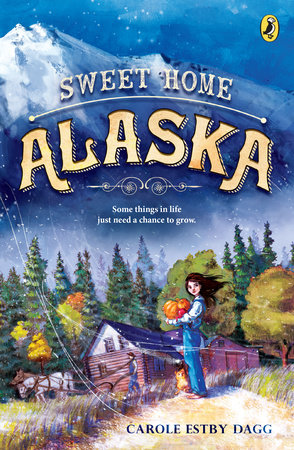 SWEET HOME ALASKA by Carole Estby Dagg
"If Laura Ingalls Wilder had lived in Alaska, she might have written this novel."—Kirkus Reviews
This exciting pioneering story, based on actual events, introduces readers to a fascinating chapter in American history, when FDR set up a New Deal colony in Alaska to give loans and land to families struggling during the Great Depression.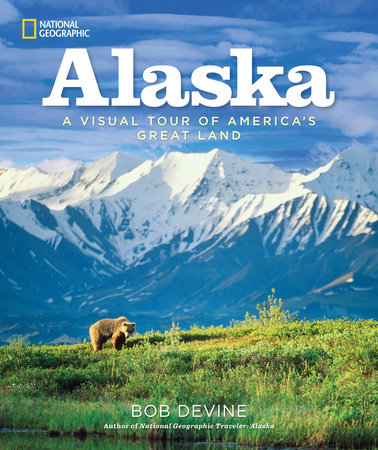 ALASKA by Shelley Gill, Patrick J. Endres
Blending poetry and humor, Alaskan author and adventurer Shelley Gill explores the 49th state's history, culture, wildlife, and geography. Explosive volcanoes, extreme climates, massive mountains, shimmering Northern Lights, and dog-mushing races are just some of the sights captured in crisp photographs.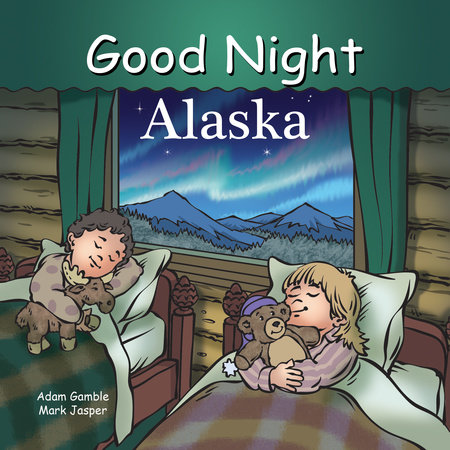 GOOD NIGHT ALASKA by Adam Gamble, Mark Jasper, Cooper Kelly
Good Night Alaska features Anchorage, Mount McKinley, Denali National Park, McNeil River, Kodiak Island, the Iditarod, glaciers, icebergs, polar bears, walruses, caribou, crab fishing, Eskimo culture, hiking, mountain climbing, trains, and more. North to Alaska! This soothing board book explores Alaska's most scenic and treasured places. Don't forget your mittens!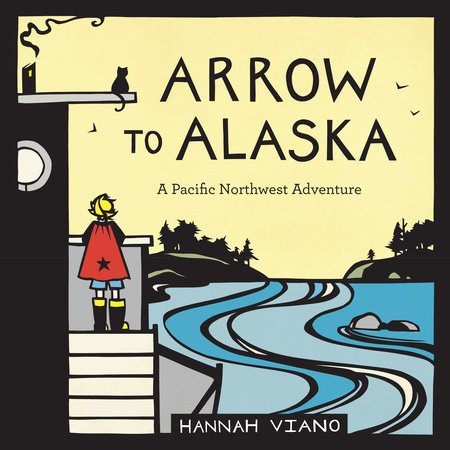 ARROW TO ALASKA: A PACIFIC NORTHWEST ADVENTURE by Hannah Viano
From Hannah Viano, the author/illustrator of S is for Salmon, comes the story of Arrow, a six-year-old boy who goes on an adventure to visit his grandfather in Alaska. Arrow starts off from the Ballard Locks in Seattle, aboard Aunt Kelly's salmon tender boat. After arriving at Grampy's quirky houseboat, Arrow and Grampy revel in each other's company in the great outdoors. The tale wraps up with a floatplane ride retracing Arrow's journey. Hannah Viano's striking papercut images capture whimsy and wonder, while her language sparkles.
For more on these and other Alaska titles visit Alaska Day
---
There's a Book for That! is brought to you by Penguin Random House's Sales department. Please follow our Tumblr by clicking here—and share this link with your accounts: theresabookforthat.tumblr.com. Thank you!
Did you see something on the news or read about something on your commute? Perhaps you noticed something trending on Twitter? Did you think: "There's a book for that!"? Then please, send it our way at theresabookforthat@penguinrandomhouse.com
Posted: October 18, 2019