Friday Reads: Batman Day!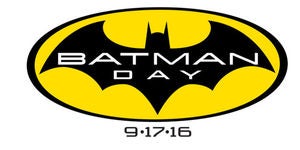 It's the third annual Batman Day! This fan-favorite event began with the character's 75th anniversary, and has continued to grow in popularity. In celebration of Batman Day this 9/17, we've collected books all about the Dark Knight. Whether you want to start with his creation or get caught up in the latest adventure, here's everything you could ever want to know about our favorite superhero.

FEATURED TITLES
BATMAN:The Story of the Dark Knight by Ralph Cosentino
THE ESSENTIAL BATMAN ENCYCLOPEDIA by Robert Greenberger
BATMAN: A VISUAL HISTORY by DK BATMAN CHARACTER ENCYCLOPEDIA by DK
BATMAN! (DC SUPER FRIENDS) by Billy Wrecks and Ethen Beavers
View additional Batman related titles by clicking here.
BATMAN TRIVIA
How much do you know about Batman? Try your hand at these questions.
What is the name of Batman's alter ego?
What is Batman's other hero name?
Who is Batman's closest ally?
Who is Batman's sidekick?
Which city does Batman protect?
What is the name of Bruce Wayne's house?
Where does Batman hide his secret base?
What is the name of the current Robin?
Which arch villain lives in Gotham City?
What is the name of Batman's feline foe?
TRIVIA  ANSWERS
Bruce Wayne
The Dark Knight
Alfred Pennyworth
Robin
Gotham City
Wayne Manor
The Batcave
Damian Wayne
The Joker
Catwoman
Score = number of questions answered correctly 1-3 – Good Job! You know who to signal in a super emergency. 4-6 – Wow! You could be part of the Justice League. 7-9 – Excellent! We know who to call for the next Robin. 10 – Are you secretly Bruce Wayne? You're a Batman expert!
Posted: September 15, 2016