Friday Reads: Books about Work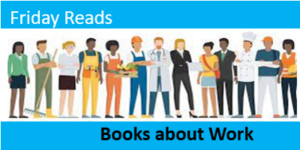 Labor Day weekend is upon us! Observed on the first Monday in September, Labor Day is a creation of the labor movement and is dedicated to the achievements of American workers. The workplace has been turned upside down since the pandemic hit. Whether you work from home or not, the following recommended titles touch on our working lives in various and meaningful ways: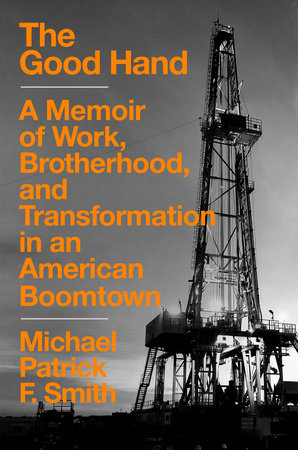 THE GOOD HAND: A MEMOIR OF WORK, BROTHERHOOD, AND TRANSFORMATION IN AN AMERICAN BOOMTOWN by Michael Patrick F. Smith
A vivid window into the world of working class men set during the Bakken fracking boom in North Dakota. The Good Hand is a saga of fear, danger, exhaustion, suffering, loneliness, and grit that explores the struggles of America's marginalized boomtown workers—the rough-hewn, castoff, seemingly disposable men who do an indispensable job that few would exalt: oil field hands who, in the age of climate change, put the gas in our tanks and the food in our homes. Ultimately, this is a book about transformation—a classic American story of one man's attempt to burn himself clean through hard work, to reconcile himself to himself, to find community, and to become whole.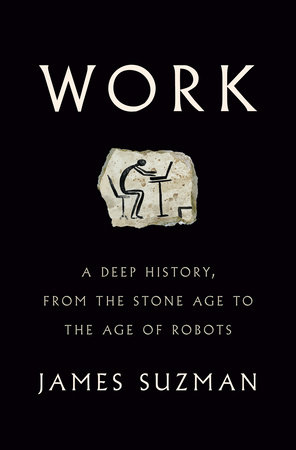 WORK: A DEEP HISTORY, FROM THE STONE AGE TO THE AGE OF ROBOTS by James Suzman
"This book is a tour de force."—Adam Grant, New York Times bestselling author of Give and Take
Work defines who we are. It determines our status, and dictates how, where, and with whom we spend most of our time. It mediates our self-worth and molds our values. But are we hard-wired to work as hard as we do? Did our Stone Age ancestors also live to work and work to live? And what might a world where work plays a far less important role look like? To answer these questions, James Suzman charts a grand history of "work" from the origins of life on Earth to our ever more automated present, challenging some of our deepest assumptions about who we are. Arguing that we are in the midst of a similarly transformative point in history, Suzman shows how automation might revolutionize our relationship with work and in doing so usher in a more sustainable and equitable future for our world and ourselves.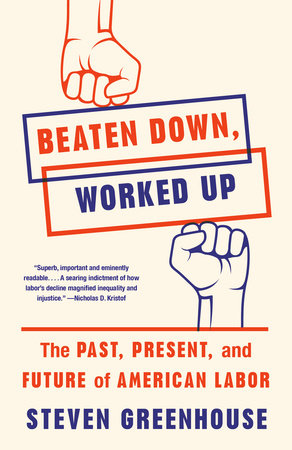 BEATEN DOWN, WORKED UP: THE PAST, PRESENT, AND FUTURE OF AMERICAN LABOR by Steven Greenhouse
From longtime New York Times labor correspondent, an in-depth and stirring look at working men and women in America, the challenges they face, and the ways in which they can be re-empowered. In his sweeping, robust new work, Steven Greenhouse rebuts the often-stated view that labor unions are outmoded—or even harmful—by recounting some of labor's victories, and the efforts of several of today's most innovative and successful worker groups. Greenhouse proposes concrete, feasible ways in which workers' collective power can be—and is being—rekindled and reimagined in the twenty-first century.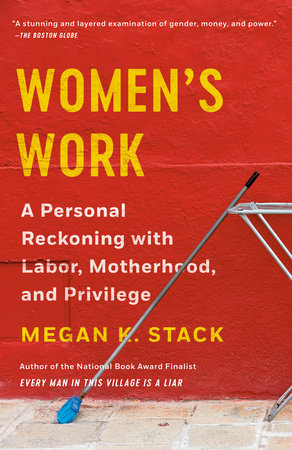 WOMEN'S WORK: A PERSONAL RECKONING WITH LABOR, MOTHERHOOD, AND PRIVILEGE by Megan K. Stack
From National Book Award finalist Megan K. Stack: this fearless, searching memoir follows the author as she raises her children in Asia with the help of local women who are also working mothers—exploring important and timely questions of marriage, motherhood, feminism, and privilege along the way.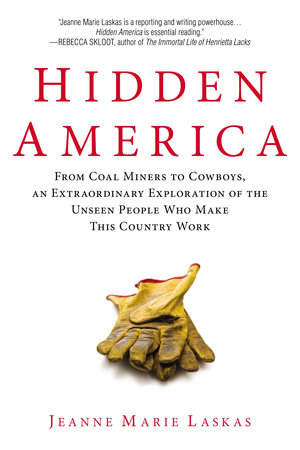 HIDDEN AMERICA: FROM COAL MINERS TO COWBOYS, AN EXTRAORDINARY EXPLORATION OF THE UNSEEN PEOPLE WHO MAKE THIS COUNTRY WORK by Jeanne Marie Laskas
Award-winning journalist Jeanne Marie Laskas reveals "enlightening, entertaining, and often poignant"* profiles of America's working class—the forgotten men and women who make our country run. "Jeanne Marie Laskas is a reporting and writing powerhouse. She doesn't just interview the people who dig our coal and extract our oil, she goes deep into the mines and tundra with them. With beauty, wit, curiosity, and grace, she finds the hidden soul of America. Hidden America is essential reading."—Rebecca Skloot, author of The Immortal Life of Henrietta Lacks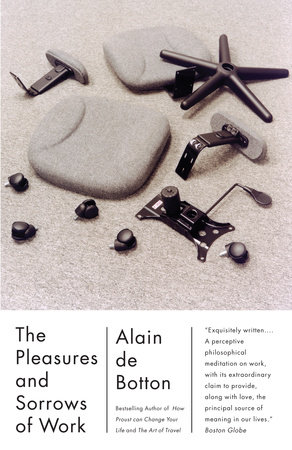 THE PLEASURES AND SORROWS OF WORK BY Alain De Botton
The Pleasures and Sorrows of Work is an exploration of the joys and perils of the modern workplace, beautifully exploring what other people wake up to do each day—and night—to make our frenzied world function. With a philosophical eye and his signature combination of wit and wisdom, Alain de Botton leads us on a journey around an eclectic range of occupations, from rocket scientist to biscuit manufacturer, from accountant to artist—in search of what makes jobs either soul-destroying or fulfilling.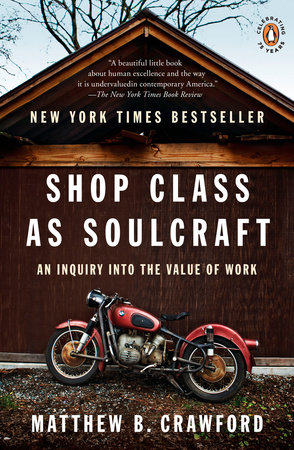 SHOP CLASS AS SOULCRAFT: AN INQUIRY INTO THE VALUE OF WORK by Matthew B. Crawford
Called "the sleeper hit of the publishing season" by The Boston Globe, Shop Class as Soulcraft became an instant bestseller, attracting readers with its radical (and timely) reappraisal of the merits of skilled manual labor. On both economic and psychological grounds, author Matthew B. Crawford questions the educational imperative of turning everyone into a "knowledge worker," based on a misguided separation of thinking from doing. Using his own experience as an electrician and mechanic, Crawford presents a wonderfully articulated call for self-reliance and a moving reflection on how we can live concretely in an ever more abstract world.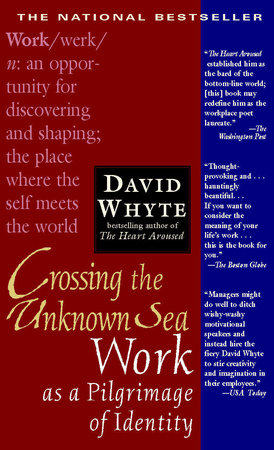 CROSSING THE UNKNOWN SEA: WORK AS A PILGRIMAGE OF IDENTITY by David Whyte
Crossing the Unknown Sea is about reuniting the imagination with our day to day lives. It shows how poetry and practicality, far from being mutually exclusive, reinforce each other to give every aspect of our lives meaning and direction. For anyone who wants to deepen their connection to their life's work—or find out what their life's work is—this book can help navigate the way.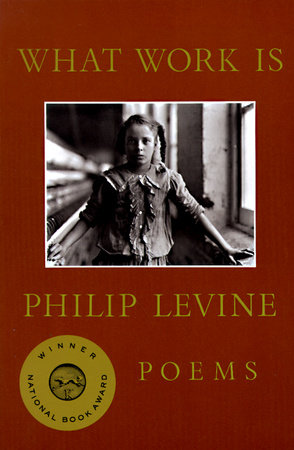 WHAT WORK IS: POEMS by Philip Levine
Winner of the National Book Award in 1991
"This collection amounts to a hymn of praise for all the workers of America. These proletarian heroes, with names like Lonnie, Loo, Sweet Pea, and Packy, work the furnaces, forges, slag heaps, assembly lines, and loading docks at places with unglamorous names like Brass Craft or Feinberg and Breslin's First-Rate Plumbing and Plating… But Levine's characters are also significant for their inner lives, not merely their jobs. They are unusually artistic, living 'at the borders of dreams."
—Daniel L. Guillory, Library Journal
Coming in October: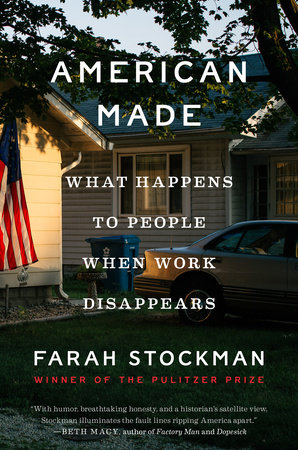 AMERICAN MADE: WHAT HAPPENS TO PEOPLE WHEN WORK DISAPPEARS by Farah Stockman
What really happens when Americans lose their jobs? In this illuminating story of ruin and reinvention, Pulitzer Prize-winning journalist Farah Stockman follows three workers whose lives unravel when the factory they have dedicated so much to closes down. The result is a startling, up close look at the profound role work plays in our lives, communities, economy, and in our sense of identity and belonging.
For more information on these and related titles visit Labor Day
---
There's a Book for That! is brought to you by Penguin Random House's Sales department. Please follow our Tumblr by clicking here—and share this link with your accounts: theresabookforthat.tumblr.com. Thank you!
Did you see something on the news or read about something on your commute? Perhaps you noticed something trending on Twitter? Did you think: "There's a book for that!"? Then please, send it our way at theresabookforthat@penguinrandomhouse.com
Posted: September 3, 2021